---
Tomorrow at 21:00~!
I'm so excited to listen to the original songs that I won't be able to sleep from evening 'til morning!!!
And I'll be meeting some people for the first time so I wonder how the stream will go…! Don't miss it👉👉 #D4DJ
Quoted Tweet (D4DJ STAY TUNE #3)
---
June 31st!
Note: See here.
---
Cheese is healthy.
Note: this has been a running joke for her in June (scroll down)
---
First reveal of the original songs!!!
Need to study up before the live!! I can't wait–!
Please watch👉👉 #D4DJ
Quoted Tweet (D4DJ STAY TUNE #3 Guest Announcement)
---
I was on a roll and finished my recording in a flash, so I forgot to take a selfie again┏( .-. ┏ ) ┓

And I just realized it's less than a month until #D4DJ 1stLIVE・・・!!
Whoah! I can't wait–!! This peach cake is yummy!
Note: The D4DJ seiyuu, including Oyu, have been posting selfies from the recording studio but this is the second time in a row that Oyu has forgotten.
---
Heave-ho!
I have five 4* units now vs Let's go–! or so I thought but I couldn't raise their levels because I don't have enough coins( ˘ω˘) #Starira
Note: Starlight ReLIVE
---
The portrait that my manager-shi drew for me.
---
BUSHITABE! in Nagano, thanks for the meal–!
This was Nishio's first talk event( ˘ω˘ )
It looks like the next BUSHITABE will be in Iwate–!
Note: "Nishio" has been kept in third person in case she's done them as HARUCA before.
Quoted Tweet (BUSHITABE Post-Event Post)
---
22 Jun 2019 – 6:57 PM (Tono Hikaru)
#BUSHITABE in Nagano🌷
Eating and talking! Connecting over card games✨ It's great~(´-`)
Thank you to everyone who came♪
The 4th run will be in Iwate! Check it out if you're nearby!

Oyu-chan and I had similar style outfits~♨️♡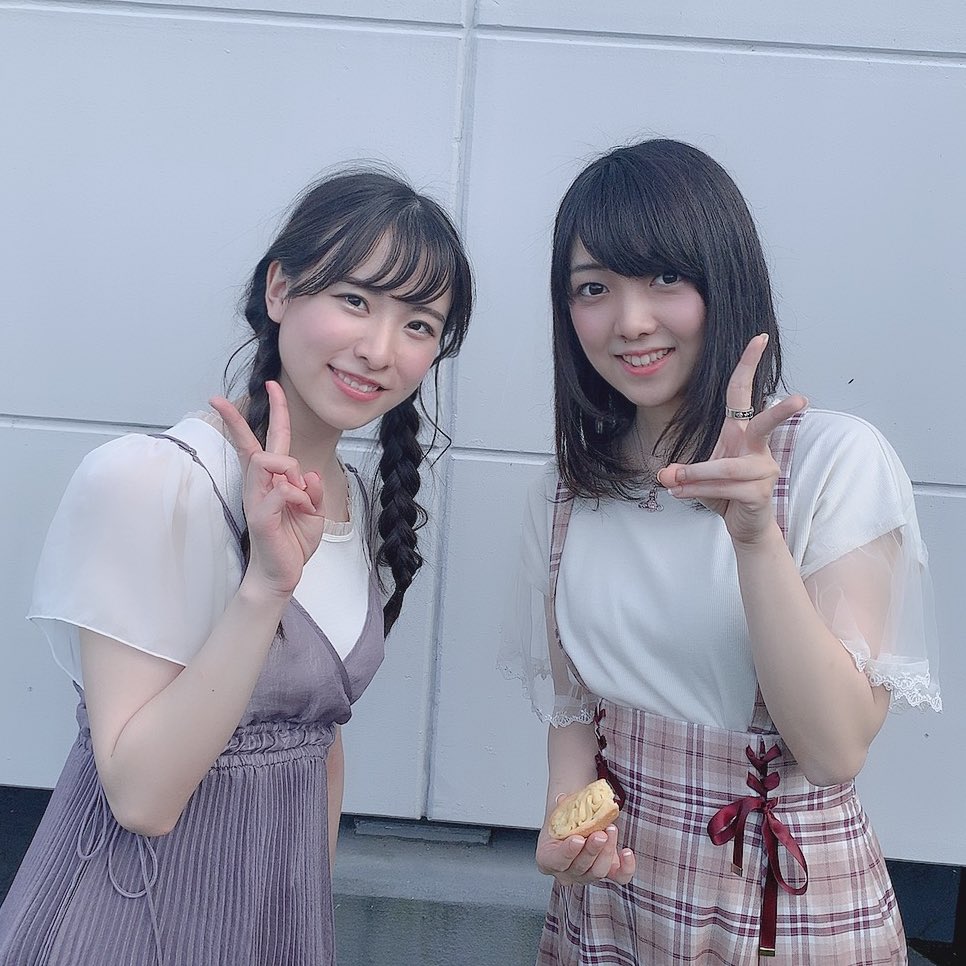 ---
Tomorrow is 「BUSHITABE! in Nagano」!
Let's play cards & nom no–m
I can't wait–!┗=͟͟͞͞( ˙∀˙)=͟͟͞͞┛
Quoted Tweet (BUSHITABE! & LaboFes Announcement)
---
Finished the first thing on my schedule and I had time afterwards to GET these at a game center!
I'm good at crane games.
The posters were Yukina and Ran! But the poster box has all five members and it's wonderfully cute so now I want to put the box on display.
Today is #UFOCatcherDay!?
As a crane gamer, I can't just stay silent👆
Maybe I'll go catch something in my spare time
Note: June 24th is World UFO Day to some, so it also became UFO Catcher Day
---
I had! A recording for #D4DJ–!!
I thought I'd wear clothes that aren't black since I was taking selfies in front of the mic today👆but then I forgot to take them.
A cup [of tapioca] after singing.
Note: Many of the D4DJ seiyuu have been posting D4DJ recording selfies so it's likely encouraged.
---
The sponges in my house.
I thought these cactus and "friends"-like things were cute so I bought and displayed them and it turned out nice!
I may end up not washing my dishes…
is what I thought but I ruthlessly made them fulfill their duties afterwards💮
---
The person at the cash register probably thought I was a cheese lover
I like it well enough but.
Cheese is high in protein and low in carbs so it's healthy( ˘ω˘)
It's healthy so it's calorie zero( ˘ω˘)
Q.E.D
Note: The "Calorie Zero Theory" was created Date Mikio from the comedy duo Sandwichman. It contains scientifically proven axioms such as "calories gather in the center of the food, so if the center is hollow then there are no calories". This culminated into a collab song with MONKEY MAJIK titled "Umarvelous"!
---
"did you think this was a chicken wing??
too baad, it was my leg~~
you can't even tell something like that apart…
ahh stop don't eat me" #tawashi
---
I had a recording for that today!
It's that! Finally that. It's that—that.
Look forward to it~
Note: This was for HiBiKi StYle!
---
Finally together with Aimin-san・・・!
And original song reveals!!
You don't want to miss this one either・・・!!!
Please tune in! 三┏ ( ˘ω˘ )┛#D4DJ
Note: Aimi is also under HiBiKi
Quoted Tweet (D4DJ STAY TUNE #3, Date & Aimi/Oyu Confirmed)
---
I'll be performing on both days of D4DJ 1st LIVE!!

A-and they've decided to hold a 2nd LIVE・・・!? #D4DJ
Quoted Tweet (D4DJ Day 2 Guests, 2nd LIVE Announcement)
---
I had a recording for #D4DJ.
It was really fun–––!!!
Ahh this live is definitely gonna be fun…
My hair is brown…gonna dye it…
This live is definitely gonna be fun…!!
---
Found it!!!
Just one more month…! excited restless fidgety #D4DJ
---
Day in and day out.
Note: MOS Burger's Natsumi Ebi Katsu. Scroll down a bit for her other post.
---
I started Starira✌️
I was patiently doing the 5x Redo Gacha until I got a combination of 4* Hikari & 3* Yuyuko when!
Hikari, Yuyuko + 3 others…!!
What a coincidence!! 👏👏
And then!
I had 1 gacha ticket so I pulled and got an even more amazing coincidence!!
Note: Starira = Starlight ReLIVE
Almost all the units she pulled are voiced by fellow HiBiKi seiyuu!
Hanayagi Kaoruko (CV. Itou Ayasa), Akikaze Rui (CV. Tsumugi Risa), Saijou Claudine (CV. Aiba Aina), Kagura Hikari (CV. Mimori Suzuko), Yumeoji Shiori (CV. Tono Hikaru)
---
Wwwwwha!!!!?
I want it all!!!!
But the way the t-shirt works is especially amazing!!!
ehh so fancy #D4DJ
Note: The t-shirt shows "D4DJ" when you take a flash photo of it!
Quoted Tweet (D4DJ 1st Live Goods)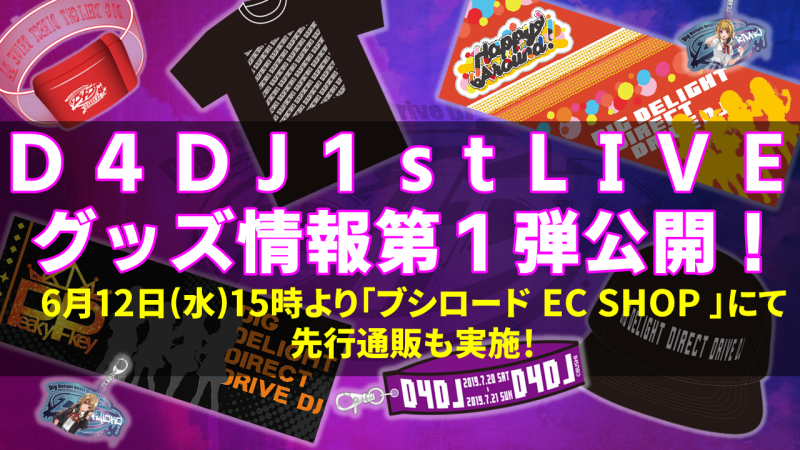 ---
I wasn't able to go to GaruSta Fes so with a gachan-gachan, Kasumi Fes was held!

I watched yesterday's Garupa Cup finals and this morning's Revue Jibutsuka on periscope and they looked super exciting and fun––! Must've been nice!!
Those who attended, get some well-earned rest!
Note: gachan-gachan is emulating the sound of a gachapon machine
---
I went to see「AnimeSong×ToyBox」!
I-i-i-i-i-intense!!!!!
All the performing artists were shout kei so the live was super passionate and super refreshing!!! ahh I'm burning up
Note: Shout Kei describes expressive, intense music (e.g. lots of rock/metal music)
---
I'm eating MOS Burger's Natsumi Ebi Katsu Burger (without tartar sauce) about 3 times a week and it's happiness.
It has leaves instead of buns so it's healthy!
---
General ticket sales start today–!!
If you're still on the fence! Now!!! #D4DJ
Quoted Tweet (D4DJ 1st Live General Sales)
---
I was watching the archive of yesterday's #D4DJ live stream and more than half of us were pointing at the wrong camera for the "well then, there you have it" hand gestures()

And once again, I'll be voicing of one of the 24 characters!! Look forward finding out who at 1st LIVE DAY1…!

The archive is here↓↓
youtu.be/UHtp_vlwV2M
---
Thank you for watching the #D4DJ live stream–!!
The announcements! Came one after another!!
Wah––––I can't wait for 1st LIVE––––
I'm glad I could get closer to both people I met for the first time and people I met for the second time on this live stream
---
5 Jun 2019 – 7:01 PM (Otsuka Sae)
D4DJ Special Live Stream -STAY TUNE!- #2
It starts~at 20:00!💪✨
Team MC😘❤️
Note: MC = host
Yes!! #D4DJ
---
I went "!" the moment I spotted this and thought "It's a long day so I'm gonna eat this~~" and I bought it but it was right around time for a snack when I bought it so mmmm yummy
this was at 9 in the morning.
---
Uwahurrayyyyyy
Kitty-san is! 1st place!! A hot topic!!
For Sanrio, Kitty-chan is by far my favorite
My runner-up is Marimari from SHOW BY ROCK!!
#SanrioCharacterGrandPrize
Quoted Tweet (Hello Kitty won 1st in Sanrio's latest online character ranking)
---
I did three 2pack battles–!
SR OTae came to me✌️
also everyone is so cute I'm freaking out #WS
Note: this is where each player blindly opens and shuffles two packs of Weiß Schwarz cards and uses this as their deck
---
This was yesterday but!
I went to Denkishiki Karen Ongaku Shuudan's「DENKARE 6th Live "GIG VIOLET EVE"」–!!
The pounding and bone-piercing metal sound x Karen-san's cute vocals. DenKare is just way too amazing…
It was awesome! My neck is sore!!
---