Nishio Yuka • Hazuki Himari • Kagami Karin
~ 1st Live Flower Stand ~ D4DJ FES Flower Stand~
---
~ Contribute here! ~
〜 こちらで参加してください! 〜
This blog post will compile all the progress for the 3 Agency Joint Audition Crew 2nd Live Flower Stand! All updates will also be posted on my Twitter with the hashtag #OyuHimaringoKagamin2ndFlowers!
→ Flower Stand Tweet

ここで3社合同オーディション組(西尾夕香さん、葉月ひまりさん、各務華梨さん)のフラスタの情報を更新するつもりです。ここからは英語しか書いてませんので申し訳ありません。
質問とかあれば是非@iviachupichuで連絡してください!よろしくお願いします!^^
~ Contribute here! ~
〜 こちらで参加してください! 〜
---
Illustrator: @Witera
Though only two of the three seiyuu ended up in the same D4DJ unit, I would like to continue supporting these three together for as long as they hold onto their bond as the joint audition crew! From here on out, they'll be forming ties with many other seiyuu through their work and, hopefully, receiving lots of love and support regardless of where they go or who they end up with.
The concept for this flower stand is to theme the flowers/illustrations after their new D4DJ characters! As with the previous stand, the idea would be to divide the flower stand into three sections with an illustrated cutout for each seiyuu. The cutouts will have the seiyuu in their costumes, along with a small chibi of their characters.
We may play around the idea of using Oyu as the "Rinku" (link) between these three, though in practice this mostly just means having her in the center. The Happy Around! characters are also named after bridges, so this also ties into this concept.
Hazuki Himari → Merm4id (Hidaka Saori)
Nishio Yuka → Happy Around! (Aimoto Rinku)
Kagami Karin → Happy Around! (Akashi Maho)
These conveniently fall into Autumn-like colors, so we can play around this theme because the live is in October (Autumn)! It's also vaguely in rainbow order with this arrangement, so that's another idea.
Outfits for the illustrations are their stage outfits!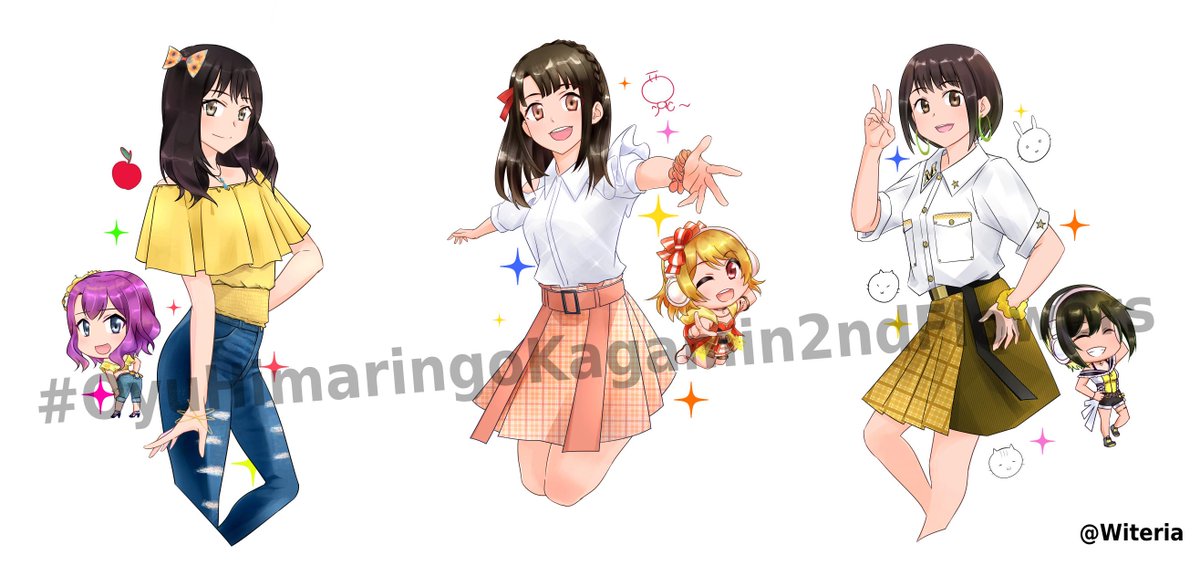 The doodles beside the characters are small references!
• Oyu: Her little creature!
• Himari: Her apple bookmark!
• Kagamin: Her blob doodles! We changed one to a cat since she has two cats!
Flower Ideas!
Hazuki Himari – Hibiscus (Yellow) + Chrysanthemum (Orange) + Japanese Anemone (Pink) + Plumeria (White)
Nishio Yuka – Lilies (Red/Orange) + Hydrangea (Orange) + Marigold (Orange)
Kagami Karin – Alstroemeria (Yellow) + Viola (Yellow) + Ranunculus (Yellow)
All – Gerbera Daisy (Yellow/Orange), Yarrow (Orange), Sunflowers (Yellow, 1 per seiyuu)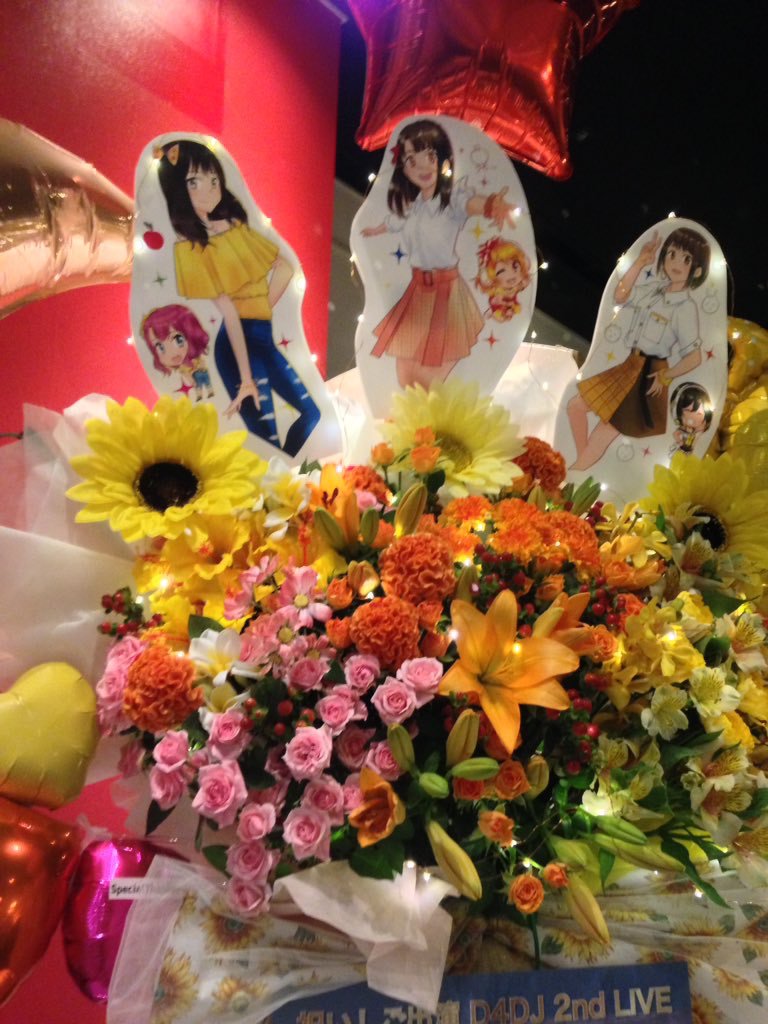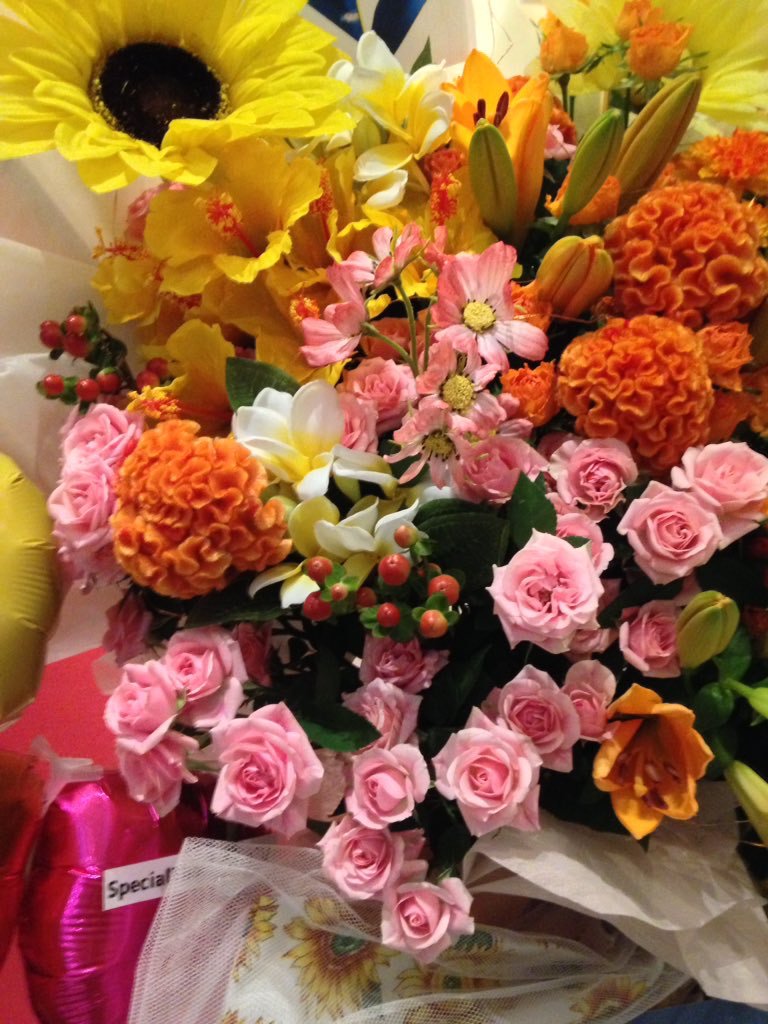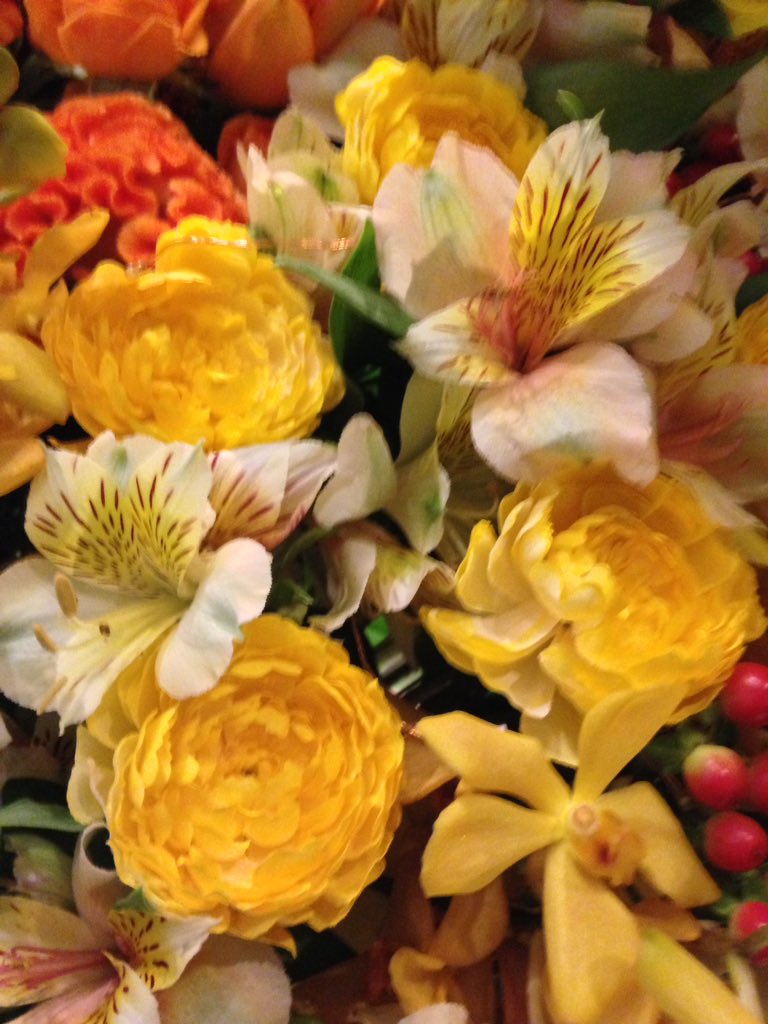 Thank you so much to everyone for participating! ^^
I'm also incredibly grateful to our wonderful, amazing florist who worked tirelessly through the typhoon to prepare this stand for us🙏
~iviachupichu