~ Contribute here! ~
〜 こちらで参加してください! 〜
This blog post will compile all the progress for the Kurachi Reo (& Kumachi!) ~ CharaExpo 2019 Flower Stand! All updates will also be posted on my Twitter with the hashtag #KumachiReoCE2019Flowers!
→ Please support the other CharaExpo USA 2019 Flower Stands as well! ^^

ここはキャラエキスポ2019に倉知玲鳳さん(&くまち!)宛のフラスタの情報を更新するつもりです。ここからは殆ど英語しか書いてませんが日本語の説明もちょこちょこ入れたいと思います。
質問とかあれば是非@iviachupichuで連絡してください!よろしくお願いします!^^
→ それぞれのバンドリ声優さん宛のフラスタもありますので是非よろしくお願いします!^^
~ Contribute here! ~
〜 こちらで参加してください! 〜
---
Theme: 繋がり (connections), #チームRAS (#TeamRAS)
Illustrator: @mamonksnk (tumblr), @matsuri_sama, @Witera
Designer: @shoreline_351
The goal of this flower stand is to make Reochi feel a connection with all of her fans, fellow members, and everyone supporting her.
I want all of us to come together to make Reo feel loved, and to make her laugh!
れおちゃんにみんなが繋がってる気持ちをさせたいです。最大の笑顔は目指せ!
#チームRASと一緒にできたら何より嬉しいです!よろしくお願いします!
I'm aiming to keep the flower stand itself relatively simple and instead pack the illustrations and overall composition full of references. Reo is always talking about the little details and unseen effort (esp. from staff) that goes into lives. I want every part of the flower stand to include a little detail for her to unwind, like a flowery, illustrated advent calendar of delightful references. For example, the stand will be 152.5 cm tall, Reo's exact height (the .5 cm is important!).
れおちゃんは細かいことをよく話しますのでフラスタの見た目は「シンプル」ですがしっかり観ると色々繋がりと愛を表す形で作りたいです。
Main Concept! (日本語)
The centerpiece of the flower stand will be a cutout of Reo and Kumachi!
Reo (27.5cm x 18.25cm) will have a bright expression, with one arm extended outward (more) and the other hand on her waist. In her outreached hand is amazake! Her nails will be painted red.
Above Reo is a (10cm x 4cm) cut-out of Kumachi, soaring through the sky like a superhero with PAREO's necklace as its wings and the signature ribbon on its head from SAEchi's live. Kumachi will also have its keychain and smart tracking tag!
Three chibi characters (6.9cm x 4.6cm) will be surrounding Reo to present her flowers:
• PAREO (RAISE A SUILEN, Bandori!) (shirt)
• Shimizu Esora (Peaky P-Key, D4DJ)
• Yumeoji Fumi (Rinmeikan Girls School, Starlight Re:LIVE)
PAREO will be on Reo's head, throwing confetti (pink and teal PasuPare-like flowers) like she does for CHU²!
Message: "Congratulations!" (日本語)

Esora will be on her right doing the Peaky P-Key pose with a big bang (dark green and orange flowers with pointy edges)!
Message: "ピキ!" (Peaky!) (日本語)

Fumi will be atop a pool of light blue, lime green, red flowers and holding a bottle of her beloved (yuzu) ponzu with a tag that reads "栞より" (from Shiori). Message: "レッツポン酢!" (Let's ponzu!) (日本語)
Message Board!
The message board will be a 27.5cm radius circle designed after Agematsu's macarons (also CHU²'s macarons), representing all the circles of people around her. Contributor names will be placed in a ring around the inner edge, with Reo's name in the center. The idea is to "surround" Reo with all her supporters!
The macarons will omit her colors and instead be colored after her fellow members!

Upright Macarons
• RAS: Red (LAYER), Yellow (MASKING), Lime Green (LOCK), Light Blue (CHU²), Dark Blue (HANAZONO)
• Rinmeikan: Light Purple (Tamao), Light Pink (Ichie), Light Green (Rui), Red (Yuyuko)
• Peaky P-Key: Red (Kyouko), Violet (Shinobu), Gold (Jennifer)

Flat Macarons
• Flag macarons for the contributors' countries
• Cream-colored macarons with"スタッフさん" (Staff) written on them, as Reo never fails to thank all the staff involved. One of these will also have(仮)written on it.
We will be using direct quote from her blog for a small message on the board:
この繋がりが私達の宝です! (This connection is our treasure!)
大好きです!!! (We love you!!!)
byチームRAS (by Team RAS. a reference to her old Twitter post signatures)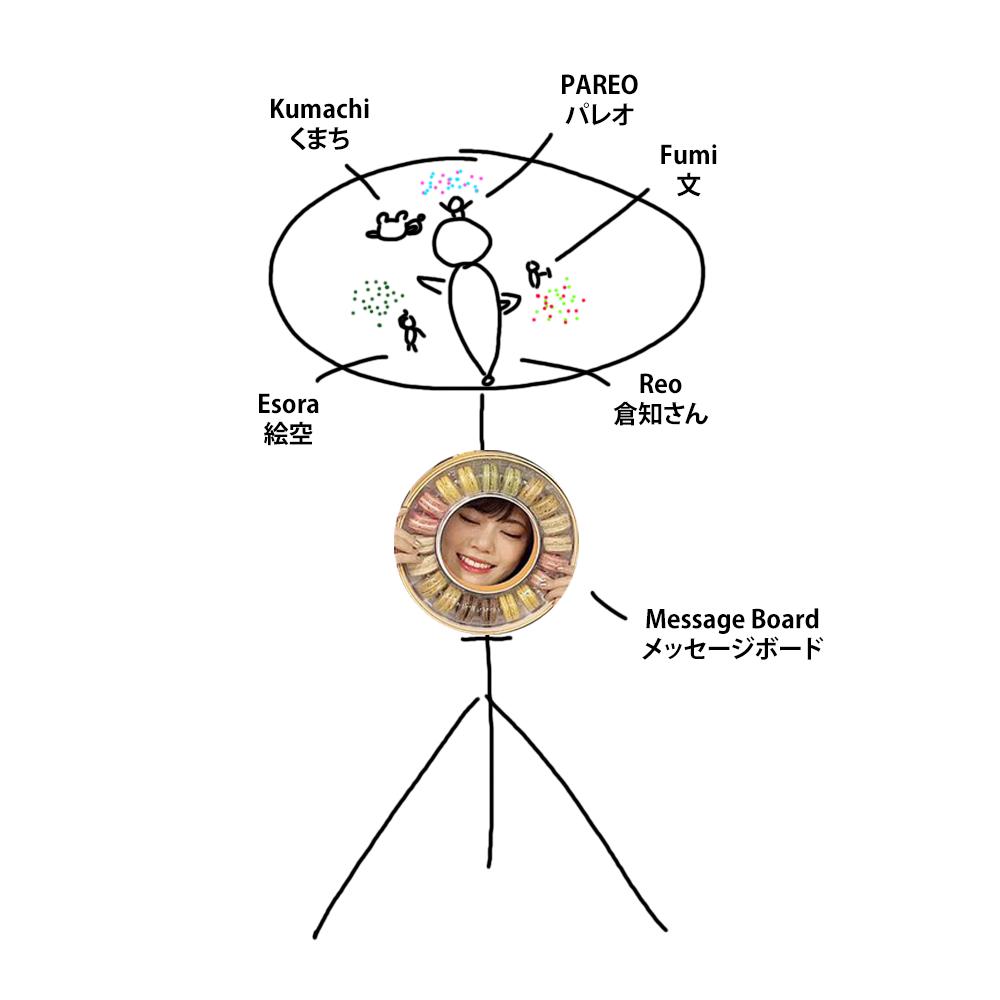 Illustration Details!
Reo will be wearing this dress, which was given to her by Raychell.
Her hair will be black & white twintails (PAREO/Esora), and she'll be wearing the hat Raychell picked out for her, Pacabou! There will be small white ribbons (Esora), pink + teal hair ties (PAREO) and a star (Shiho) attached to Pacabou. Her earrings will be these ones picked out by her high school friend.
For accessories, Reo will be wearing her shoehorn necklace. The bracelet on her left arm will be the "dolphin" from the NO PRINCESS logo. She'll have red, pink, green hair ties (Asumi) looped around her right arm.
Reo will have her keytar on her back with three charms hanging off it!
• The original heart pendant for the necklace with the "S" from her agency logo inside (the president of her agency, Satou Hiromi, picked it up by chance when she lost it)
• The wind chime that Reo copied Meguchii's pose with
• The ornament from Fumi's sash
She'll also have PAREO's belt with the buckle swapped to Keio Elu's horseshoe and Kimura's pistol hanging off the side. The current plan is to hang an actual NICI squirrel keychain from her waist (the brand of Kumachi and family).
Reo will be standing on the block that staff custom-made for her, complete with actual green tape on it. Her shoes will be the same ones in the photo!
Her squirrel will be named リスタッフさん (Risutaff-san)
Risu (Squirrel) + Staff
Its nickname is ふぅさん (Foo-san),
because "We are RAISE A SUILEN!!!!! Fooooo!!!!!"
This will also be a joint message across all the RAS stands!
Try to find it! =)
(Hint: member join order)
Oh, and we are giving Reo a big Kumachi family as an additional gift because we can.
The biggest one will be named びっぐまち (Biggumachi)!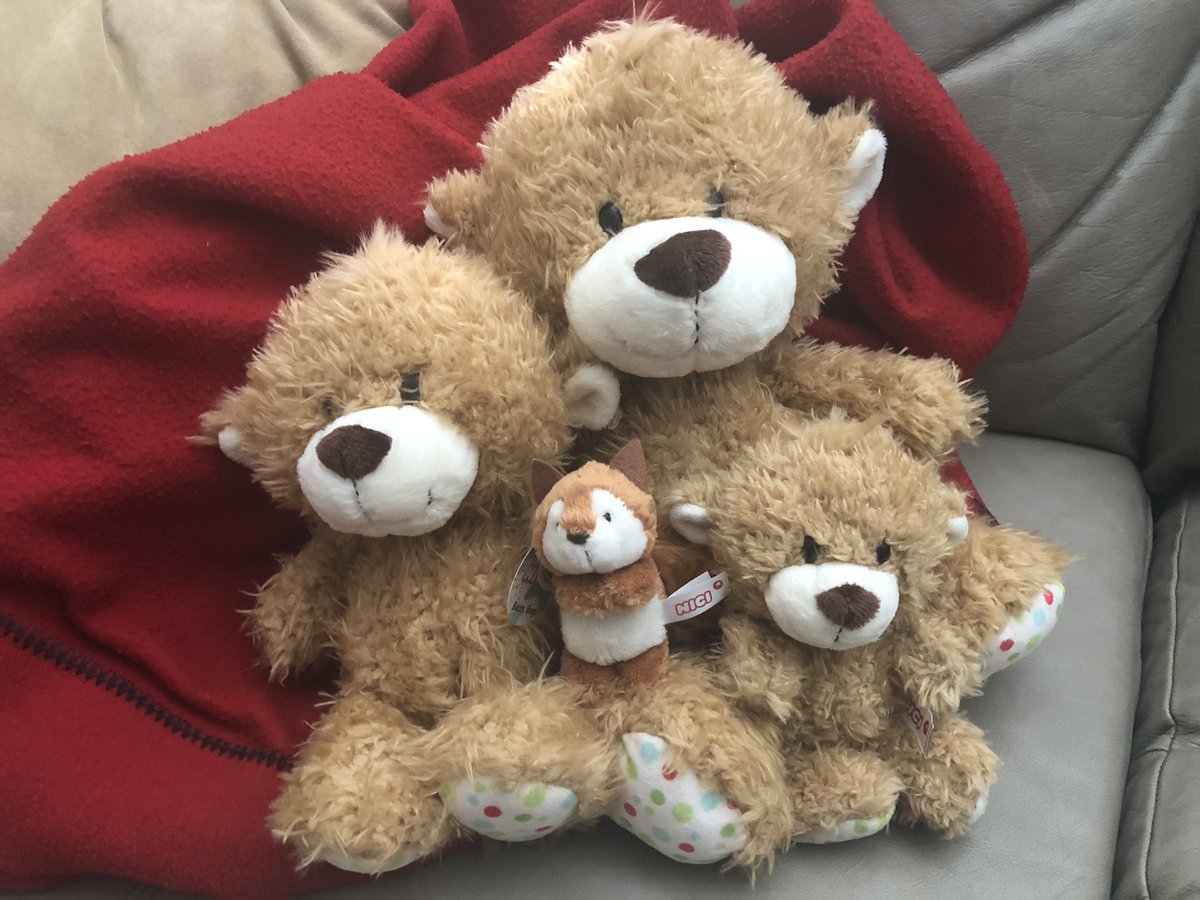 to be continued (2019.11.17)
~iviachupichu
★ CharaExpo 2019 Flower Stands ★
RAS ★ Raychell ★ Natsume ★ Kohara Riko ★ Tsumugi Risa
Roselia ★ Aiba Aina ★ Kudou Haruka ★ Sakuragawa Megu ★ Nakashima Yuki ★ Shizaki Kanon
Poppin'Party ★ Aimi ★ Otsuka Sae
D4DJ ★ Sato Hinata ★ Iwata Haruki
Kitta Izumi
★ キャラエキスポ 2019 フラスタ企画 ★
RAS ★ Raychell ★ 夏芽 ★ 小原莉子 ★ 紡木吏佐
Roselia ★ 相羽あいな ★ 工藤晴香 ★ 櫻川めぐ ★ 中島由貴 ★ 志崎樺音
Poppin'Party ★ 愛美 ★ 大塚紗英
D4DJ ★ 佐藤日向 ★ 岩田陽葵
橘田いずみ