January 2020 Tweet Translations
---
2019, thank you!

I was supported by many people this year.
I'm here today thanks to the people who support me day after day
Thank you so much!!

I'll work hard every day so that I can return that gratitude someday!
Thank you for your support this year as well🌟
---
I'm appearing as a guest on #RebirthRADIO~TrainingEdition~ on 1/7!
Please be sure to check it out📻
Radio nervous…!!
hibiki-radio.jp/description/rebirth/detail

#Rebirth
---
I'll be going here for January #RebirthNationwideClasses600( * ॑˘ ॑* ) ⁾⁾
I'll be going to all sorts of places!!
Looking forward to it☺️🌟
rebirth-fy.com/events/2020/01/

#Rebirth
---
Before I knew it, it's New Year's Eve!😮
---
Good morning☺️🌟
---
Hidaka Saori-chan!!
Her troubled face is so cute☺️💓
Her favorite foods are delicacies, motsunabe, and ramen at the end of the day…! Sophisticated!!
I love ramen too🍜
Her special skill is calligraphy!! I admire people with good handwriting
Let's do our best so that your activities can gain more recognition!!
I hope you'll support Hidaka Saori-chan🧜🏻‍♀️
Quoted Tweet (Hidaka Saori Profile)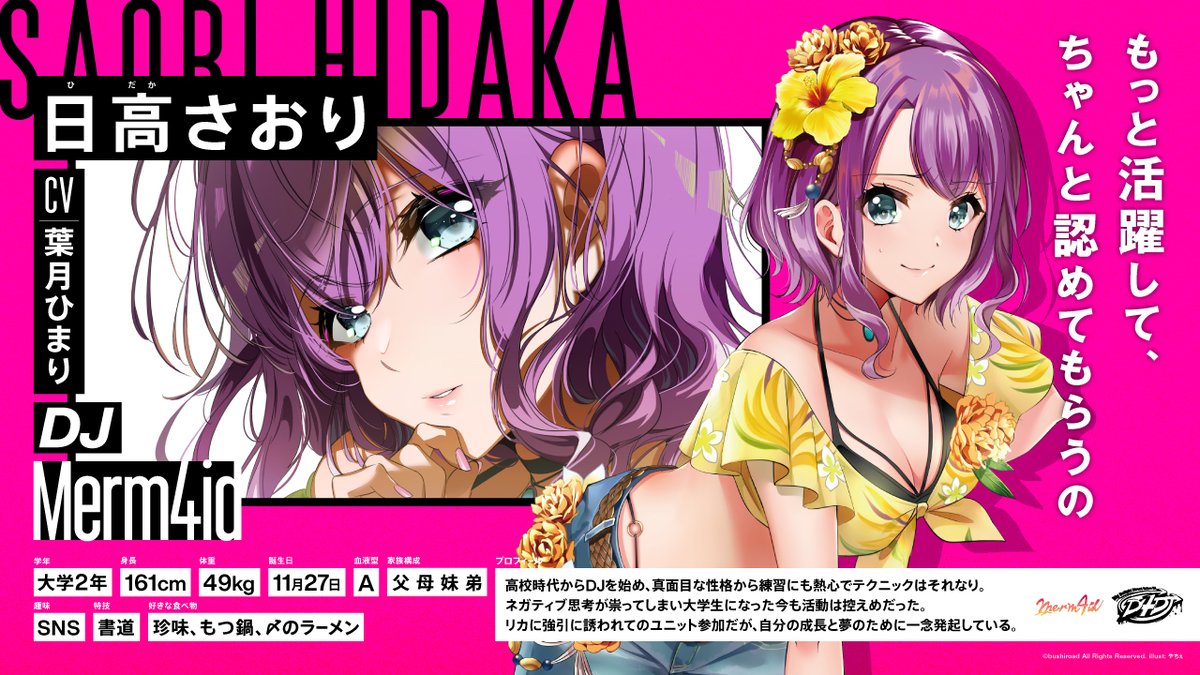 ---
Merry Christmas🎅🏻
I wonder what I should get as a Christmas present to myself~!
---
Merry Christmas Eve🎅🏻🎄⭐

How are you all spending it?
---
Let's properly check the weather forecast from now on, let's do that( ˊ࿁ˋ )🌂
---
Good morning😪
---
The amount of people around with influenza has increased😷
Be sure to take proper precautions!!
---
I've been addicted to Werewolf Village lately. It's fun even though I'm bad at it🐺
Note: This is a smartphone adaptation of a social game called Werewolf / Mafia
---
Good morning☺︎!
---
#RebirthNationwideClasses600
@Famicon Shop Bears
@EDION Himeji
Thank you👼🏻🌟
Everyone was really warm and I had a great time☺️
Also! Today was my first time playing a match with staff but I was able to win(◜▿◝ )/✨

#Rebirth
Note: The seiyuu usually play a match with staff while the attendees are given some free time to play against each other. Himaringo was paired with other seiyuu for most of her classes so they played with each other instead.
---
Good morning☀️
I'm in Hyogo today!!
Hope to see you💁🏻‍♀️✨
Quoted Tweeted (Rebirth Nationwide Classes 600 12/8 Schedule)
---
#RebirthNationwideClasses600
@Hobby Station Tsudanuma
@Hobby Station Matsudo
@Momotarou Kingdom Narashino
Thank you for participating in the rain and cold👩🏻✨
It's been a while since my last class!
It was fun✌︎
I'm headed to Hyogo prefecture tomorrow~🐙

#Rebirth
---
Good morning~☺︎
I'm going to Chiba prefecture for tomorrow's #RebirthNationwideClasses600~🥜
It's been a while since my last class!
Looking forward to it~☺️
Quoted Tweet (Rebirth Nationwide Classes 600 12/7 Schedule)
---
Rebirth 『Team Name Decision Live Stream #4‼』
Thank you💟
We decided on『Venus』as our team name!! It's a wonderful name( ¨̮⋆)
Please continue to support Rebirth and Venus🙌🏻💫

#Rebirth
---
21:00~Live stream!!
Please be sure to watch⌄̈⃝💜
I'm looking forward to deciding our team name~!✨
Quoted Tweet (Rebirth Team Name Decision Stream, Otsuka Sae & Hazuki Himari & Mimura Haruka)
---
Hot springs and hot stone spa now that tests are over♨️
It was refreshing to sweat it all out( ◜◡◝ )
---
Good morning cold🥶
---