---
---
Thank you for watching OMOTENASHI MATSURI!
Namaashi Miwaku \U.S.A/
One Night Tokkou DANCE
Denran★Second Heaven
Ai no Uta → Ai no Uta
JOMANDA Burn out!!!
etc. I went for a really playful and sorta funny mood~
I feel like I was grinning throughout the whole performance, thinking about how everyone would react lol
#OMOTENASHIBEATS
Note: set list is translated here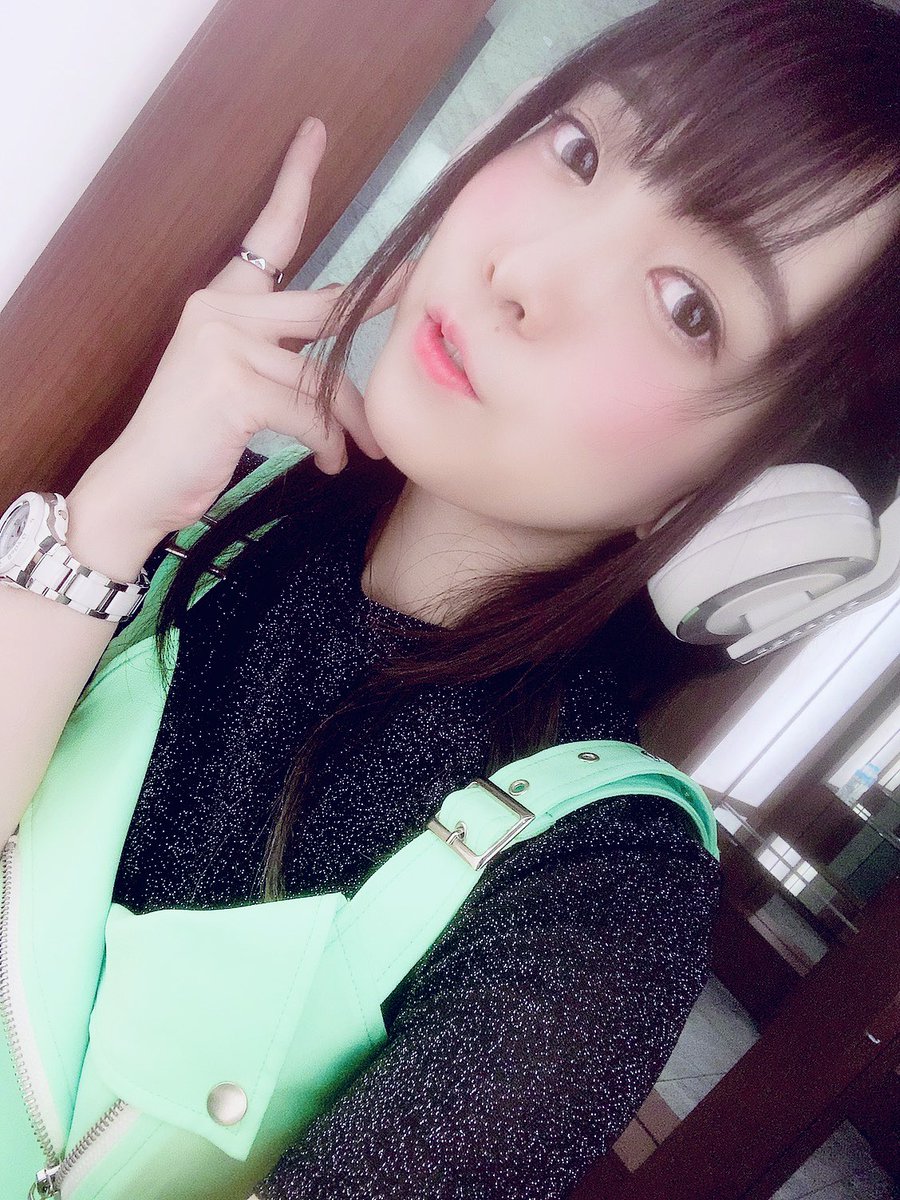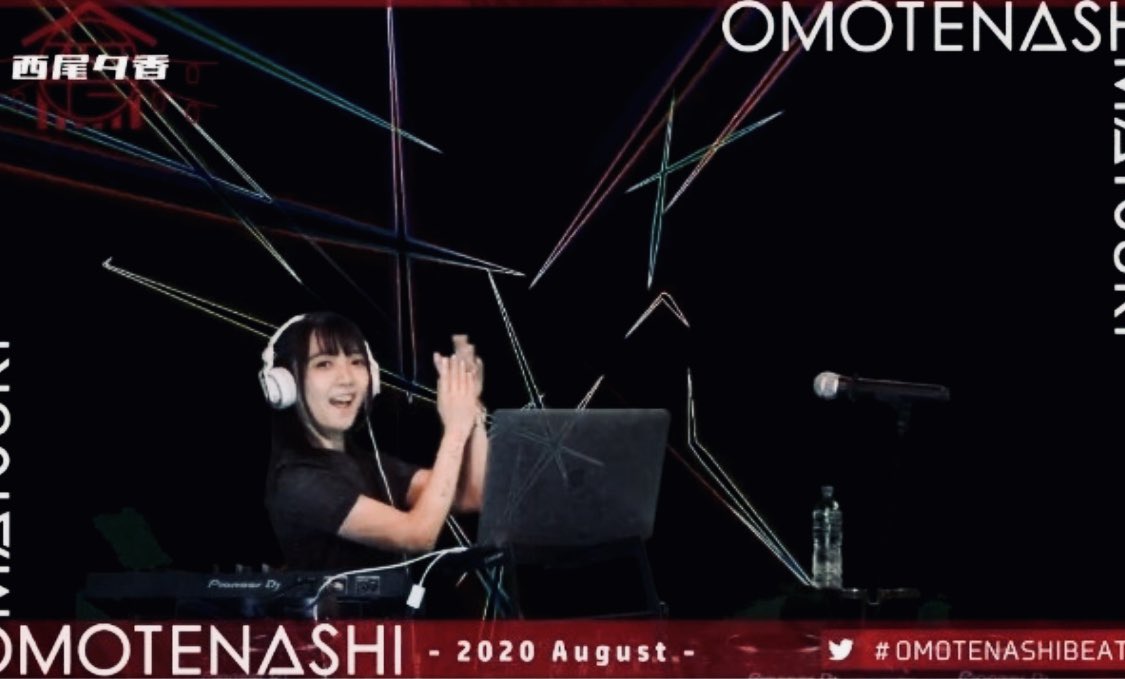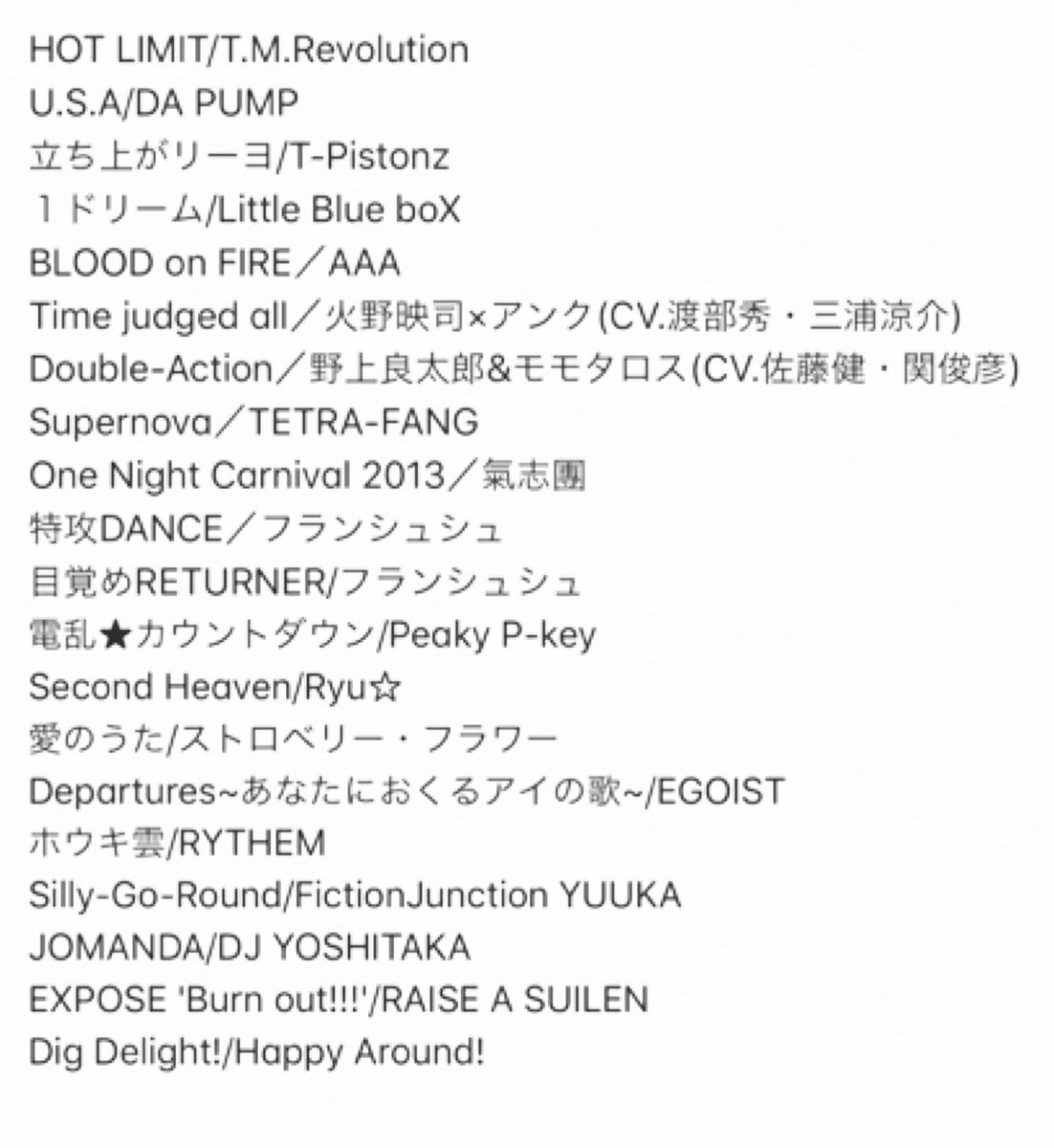 ---
My first appearance on OMOTENASHI MATSURI~
Ah, this bustier? I didn't wear it for the performance because it was transparent with the green screen. lol
I blended into the background(˘ω˘)
It was amusing though(˘ω˘)
#OMOTENASHIBEATS
Quoted Tweet (OMOTENASHI MATSURI – Nishio Yuka Comment)
---
The event is starting–!
Nishio's at~14:30! Soon–!!
#OMOTENASHIBEATS
Quoted Tweet (OMOTENASHI MATSURI Aug.)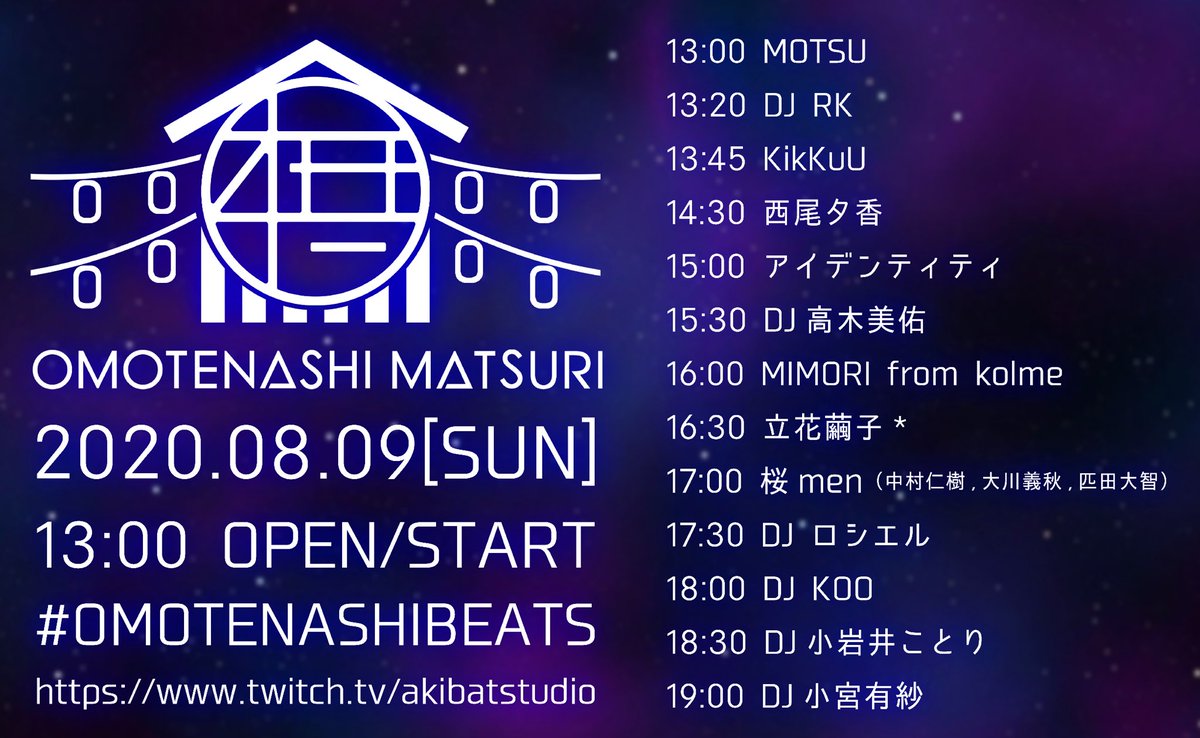 ---
I thought I did nothing but DJ today but, come to think of it, I made shaved ice!
The shaved ice maker that Team Y used in their video yesterday is actually the same one I bought last month~
Lemon Syrup Ice🍋× Coconut Milk Ice🥥
I tried to be all fancy by adding fruit but the mangoes were unnecessary
Note: this video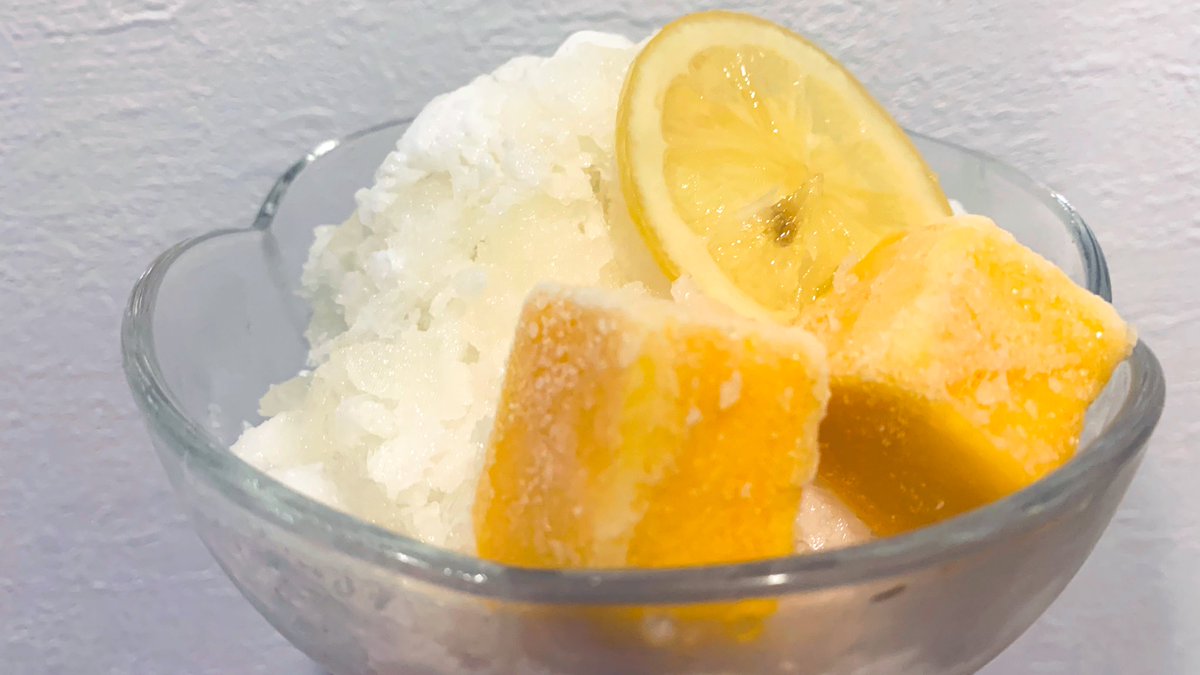 ---
OMOTENASHI MATSURI is coming up tomorrow~!
The timetable has been released–!
My turn is early, so my setlist is more subdued than hype & has the usual references with a bit of humor~
Look forward to it~~ #OMOTENASHIBEATS
Quoted Tweet (OMOTENASHI MATSURI Timetable)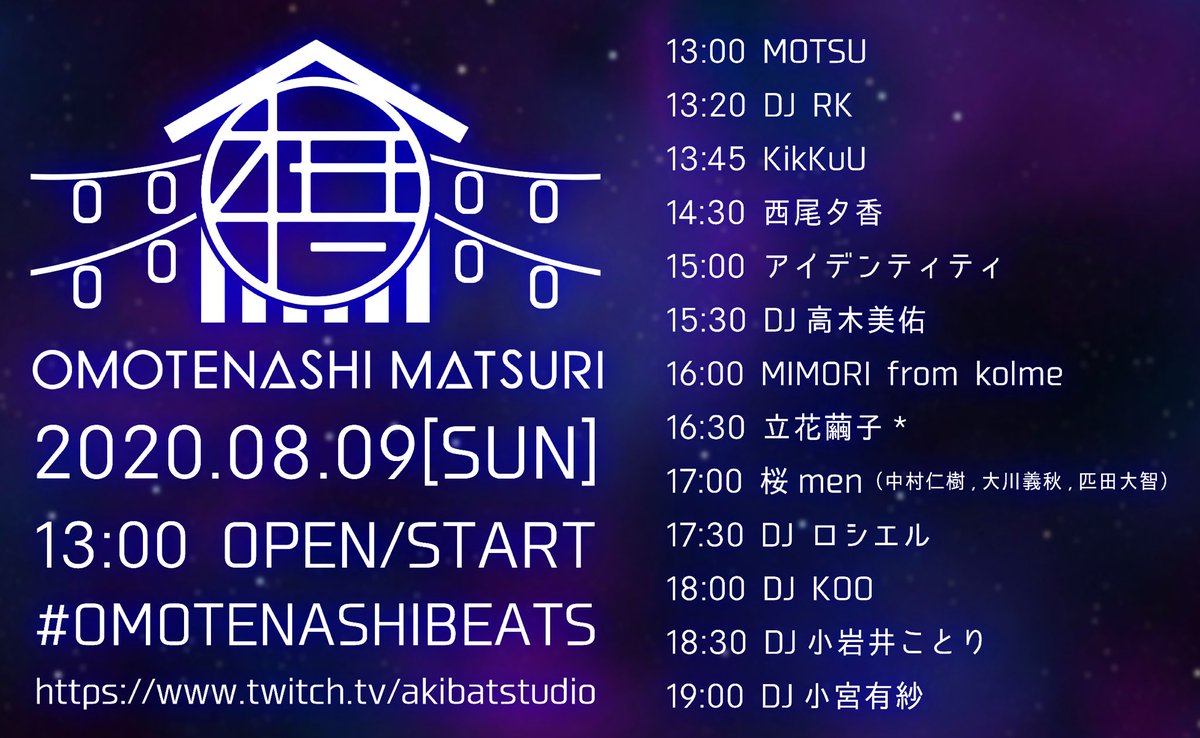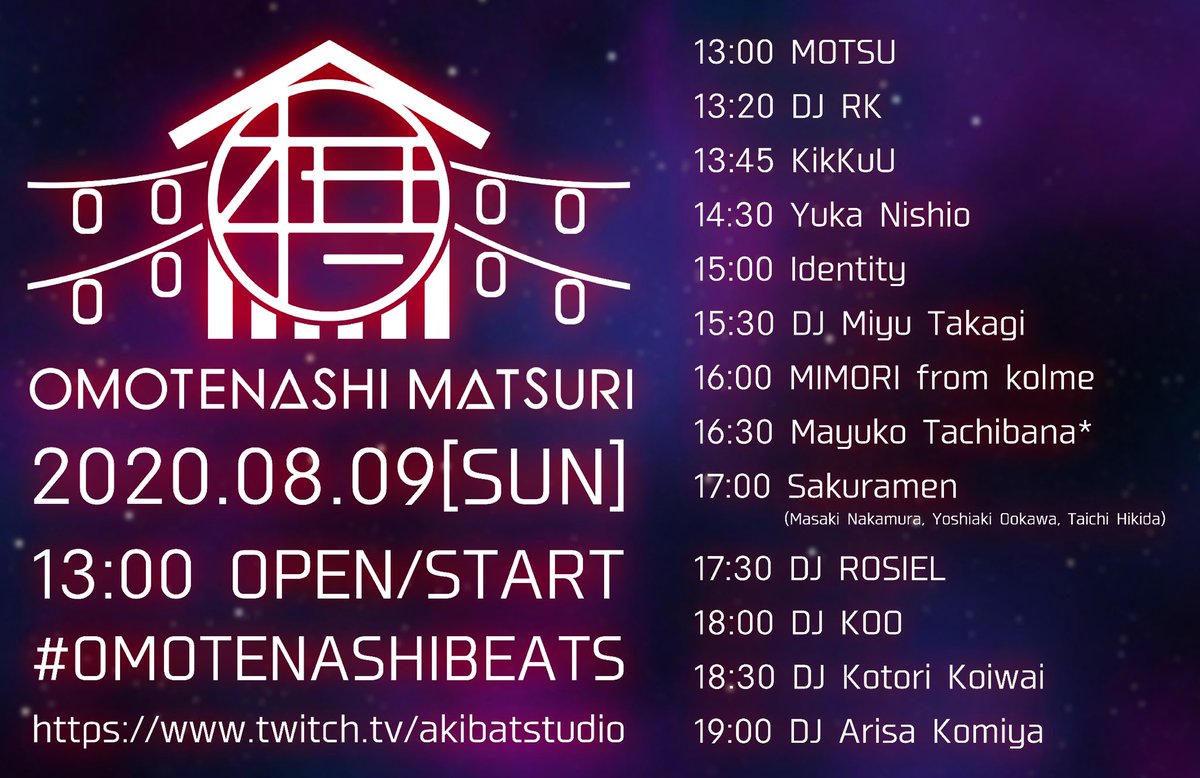 ---
This episode was even more chaotic than the last week!
and unexpected Nishi Asuka-sensei (cv. Nishi Asuka-san)
You gotta~~~see this!!
youtu.be/DLlNmC6ji8c
#Rebasu #Rebirth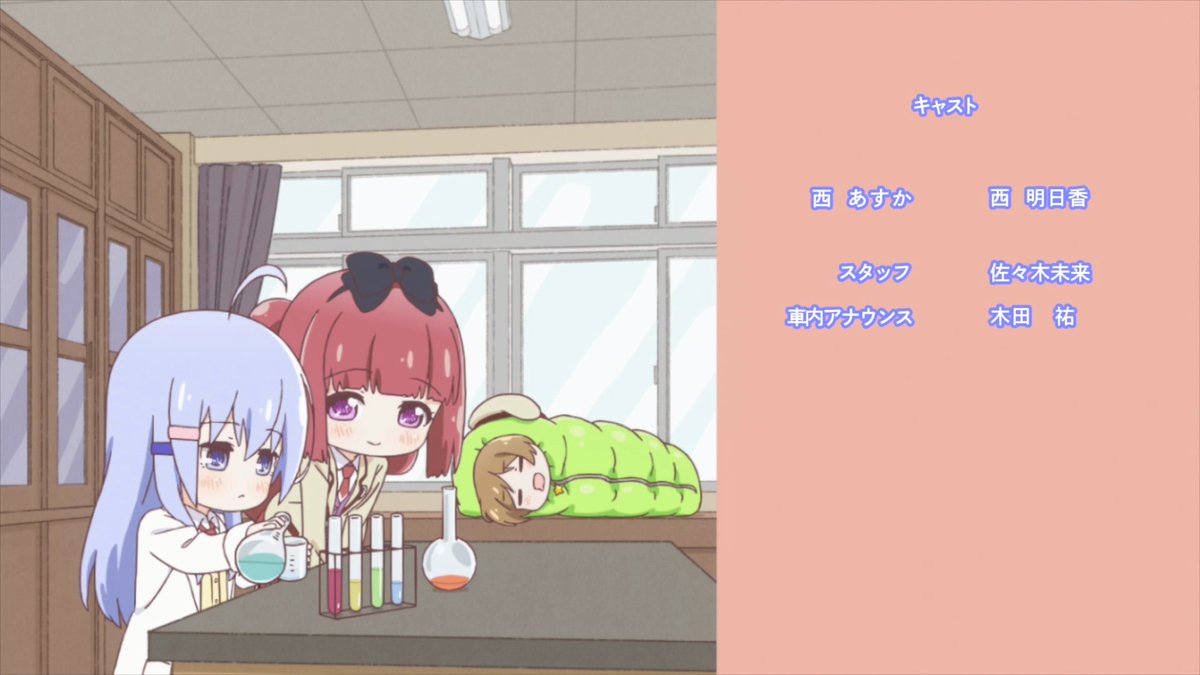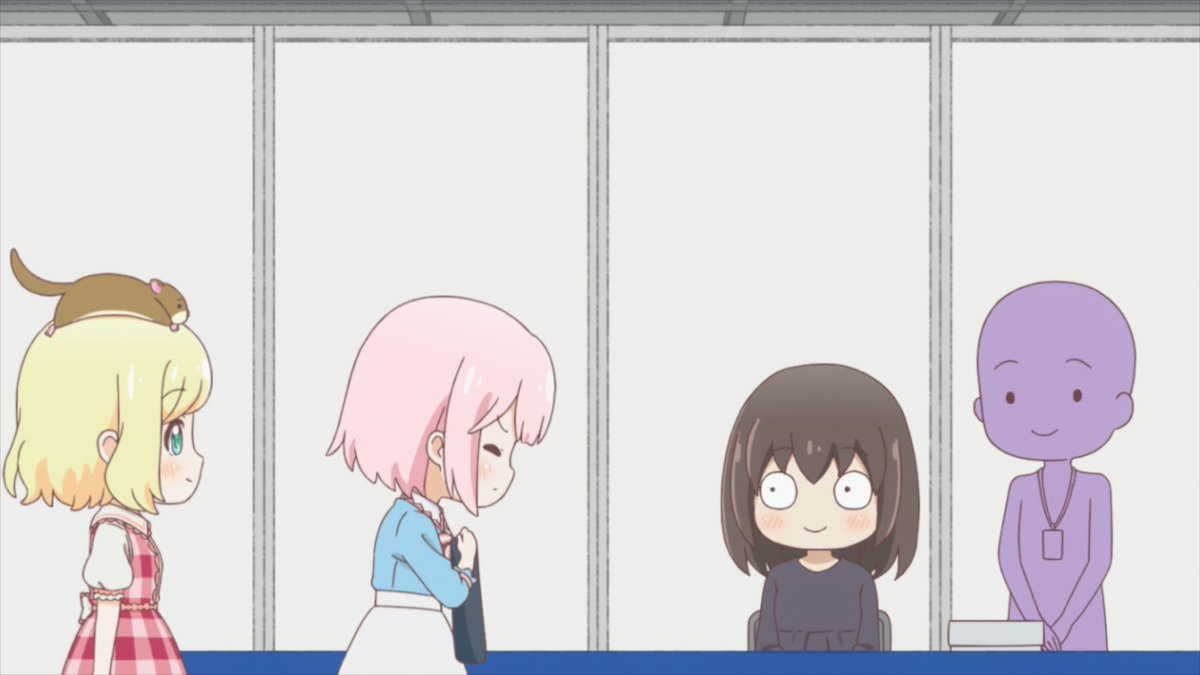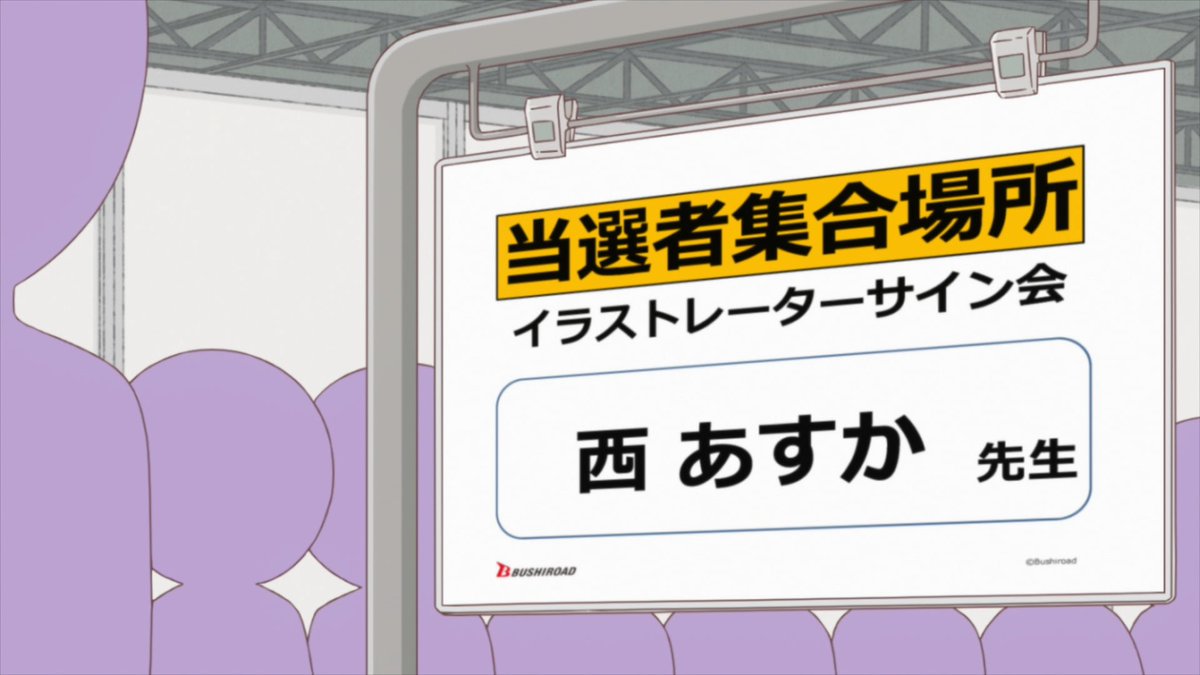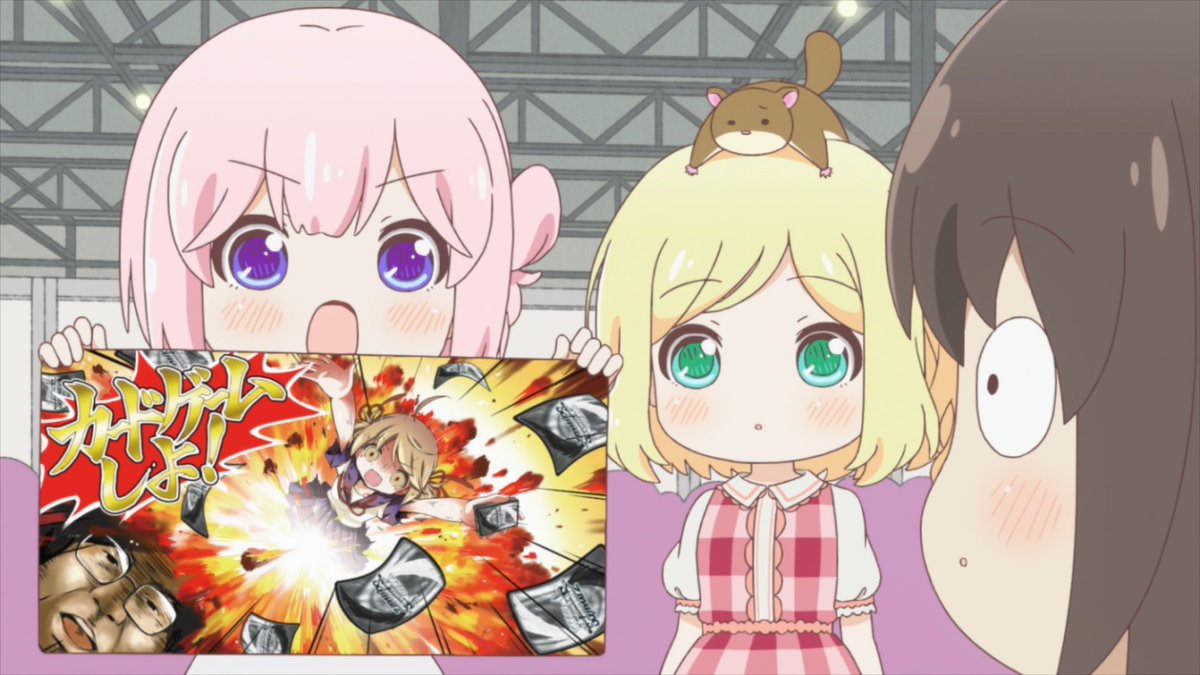 ---
Today was fun~!
And they announced the cast for the rest of the month!
Our very own Kagamin finally makes her first appearance–!! excited excited excited excited
Next week is also a first for Himari-chan, and I wanna see Myuu-chan play again and again. I love having something to look forward to every week–––
#D4DJ_DJTIME #D4DJ
Quoted Tweet (#D4DJ_DJTIME August Schedule)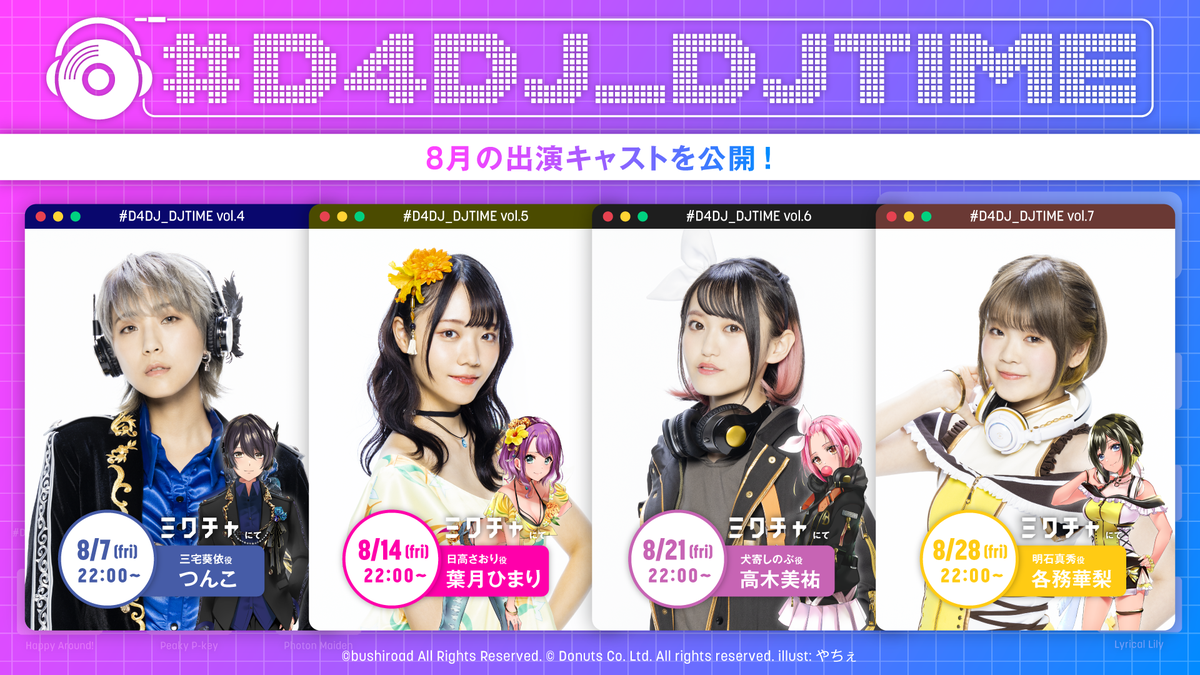 ---
When rolling this gacha, the taiko itself comes out instead of a capsule!!!
I'm excited since I haven't rolled a capsule-less one before. I wonder what kind of sound it'll make–!
#TAMAKYU
Quoted Tweet (New TAMA-KYU gacha, a mini taiko drum with drumsticks/pedestal inside)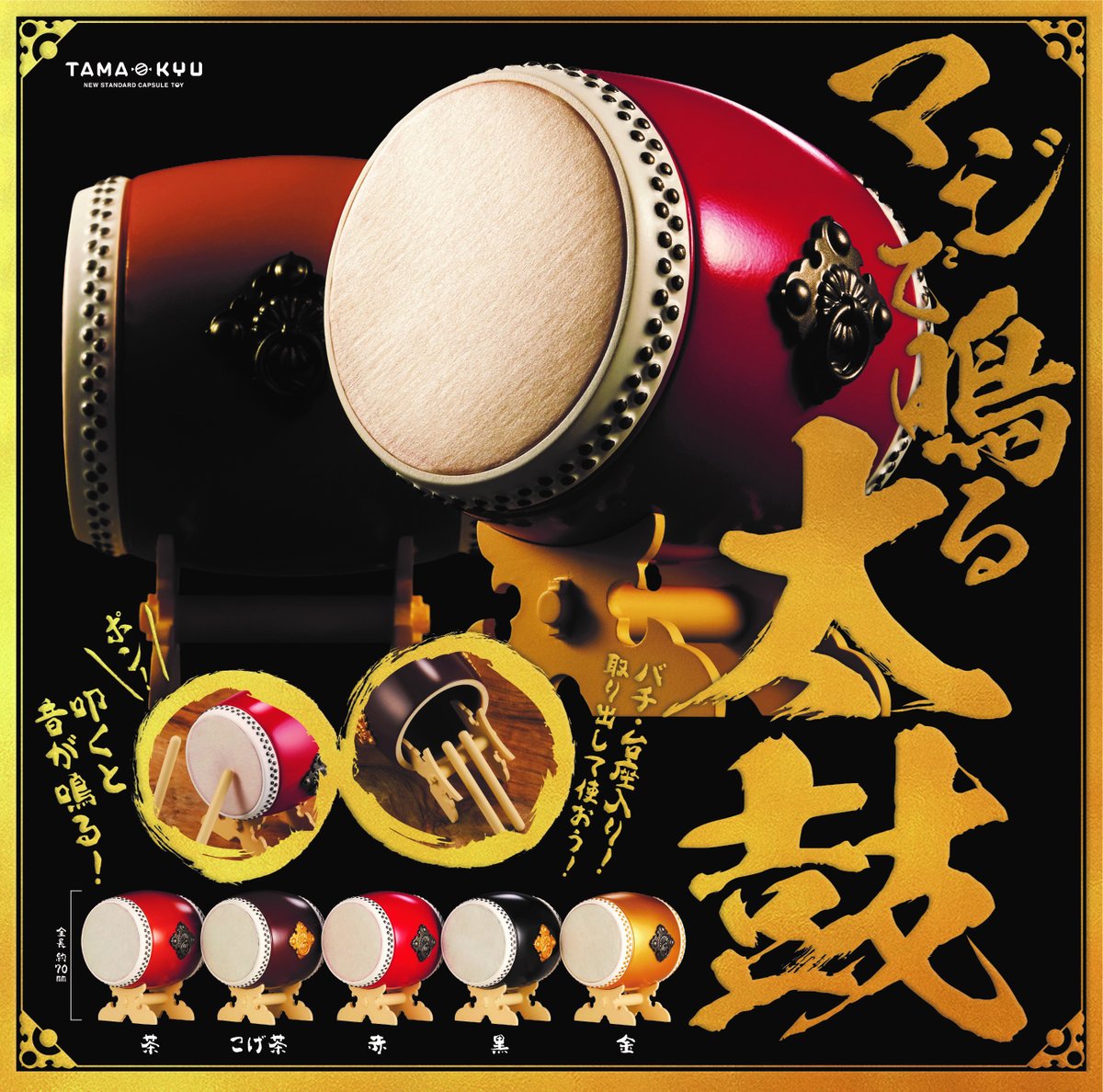 ---
I'm watching Sengoku Chahan TV and it's as outrageous, amusing, and amazing as ever
Note: a historical-themed variety show
---
#OyuClothingDeclutterCampaign
It's not over. lol
And I was supposed to wear it once before tossing it out but it's too hard to let it go…grrr.
Note: continuation of this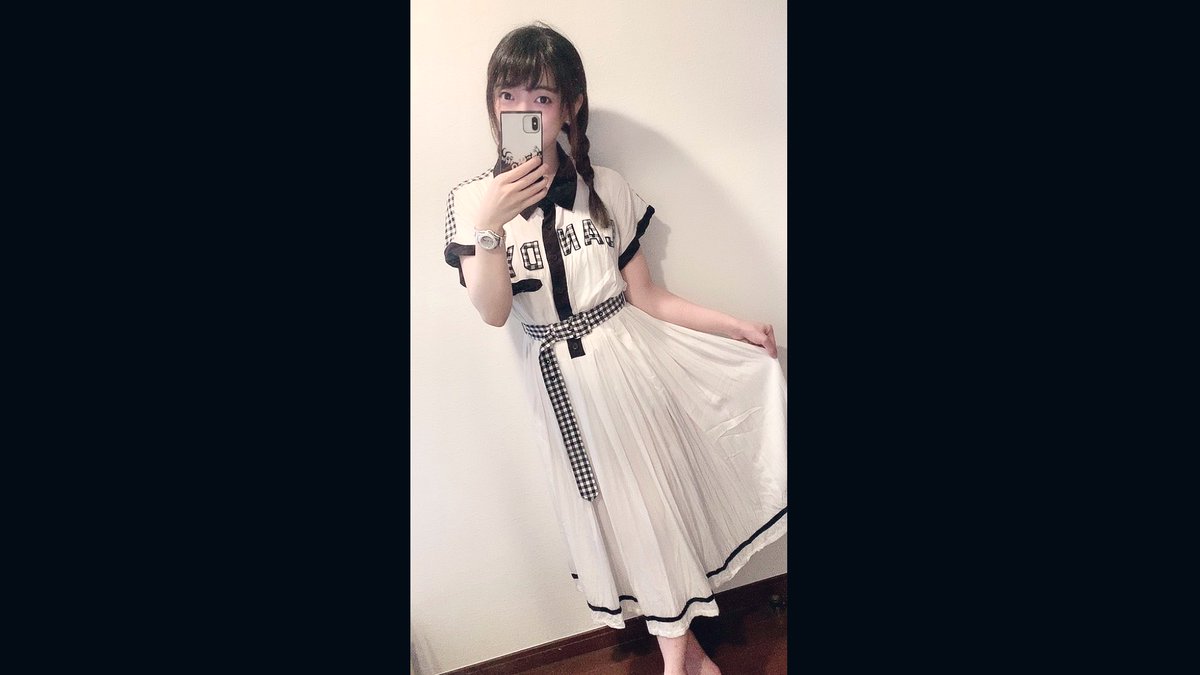 ---
goodbye hair iron…

I'm so sad it broke, but the spring popped out with a boing and it got me sorta excited thinking, "ah! broken things are often portrayed like this!". Well, it is sad though.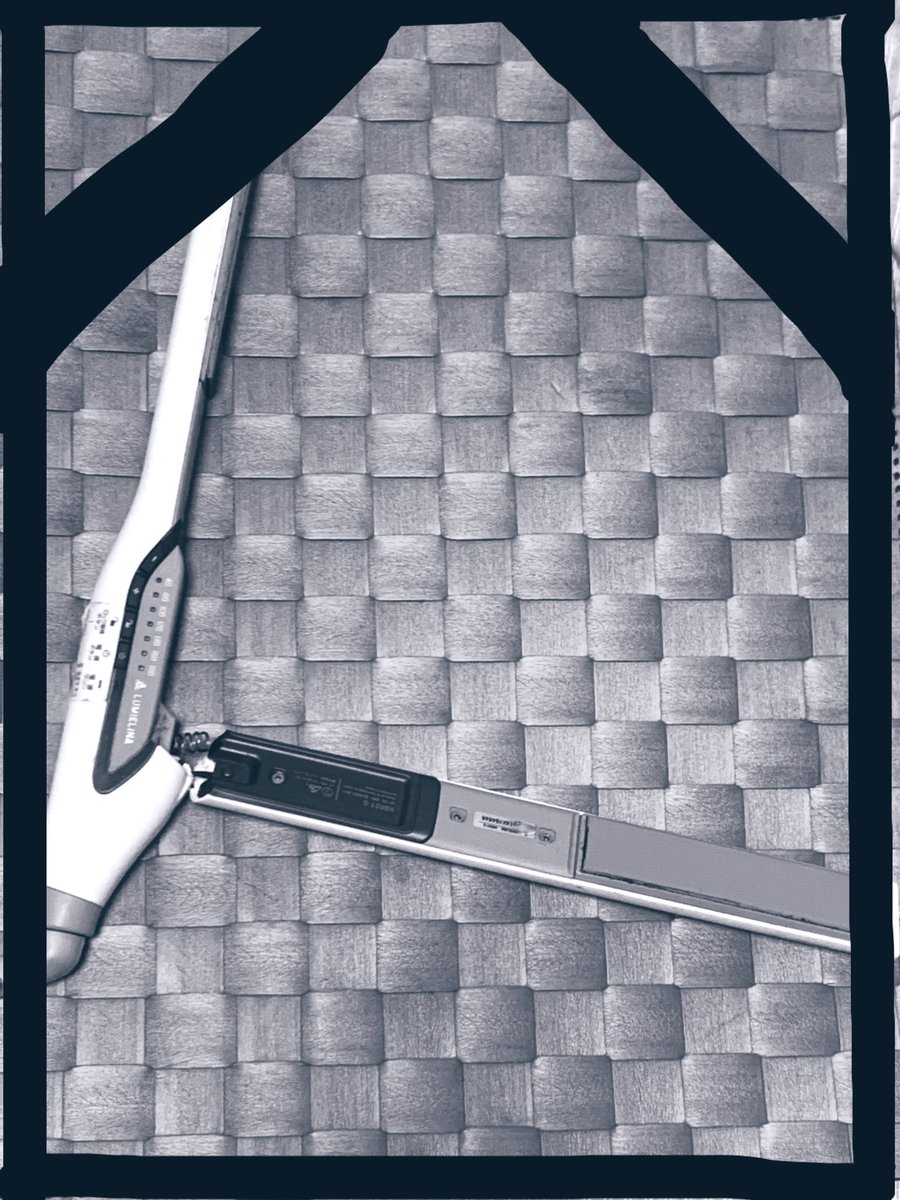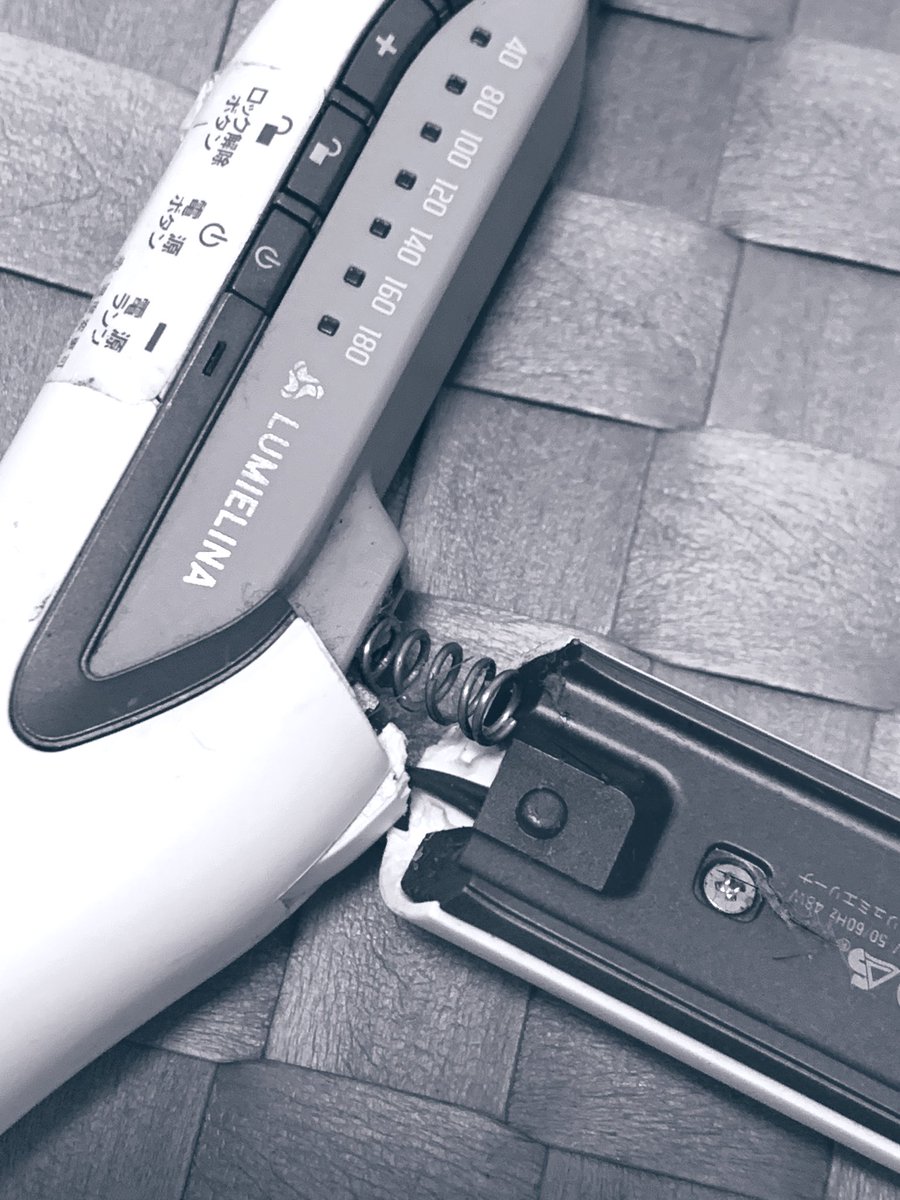 ---
I don't have much of an appetite in the summer.
I only had onigiri and karaage today. I'm hungry but just a little.
---
Let's enjoy the Morfonica band story together–!🦋 Please tune in!
#Bandori #Garupa #AudioCommentary
Quoted Tweet (Garupa Audio Commentary – Morfonica Band Story 1 w/ Shindo Amane, Suguta Hina, Nishio Yuka)
---
Pikmin 3!? Pikmin 3!? getting a Deluxe edition on the Switch!?
hurrayyyyyyyyyyy
Note: pictures were from last November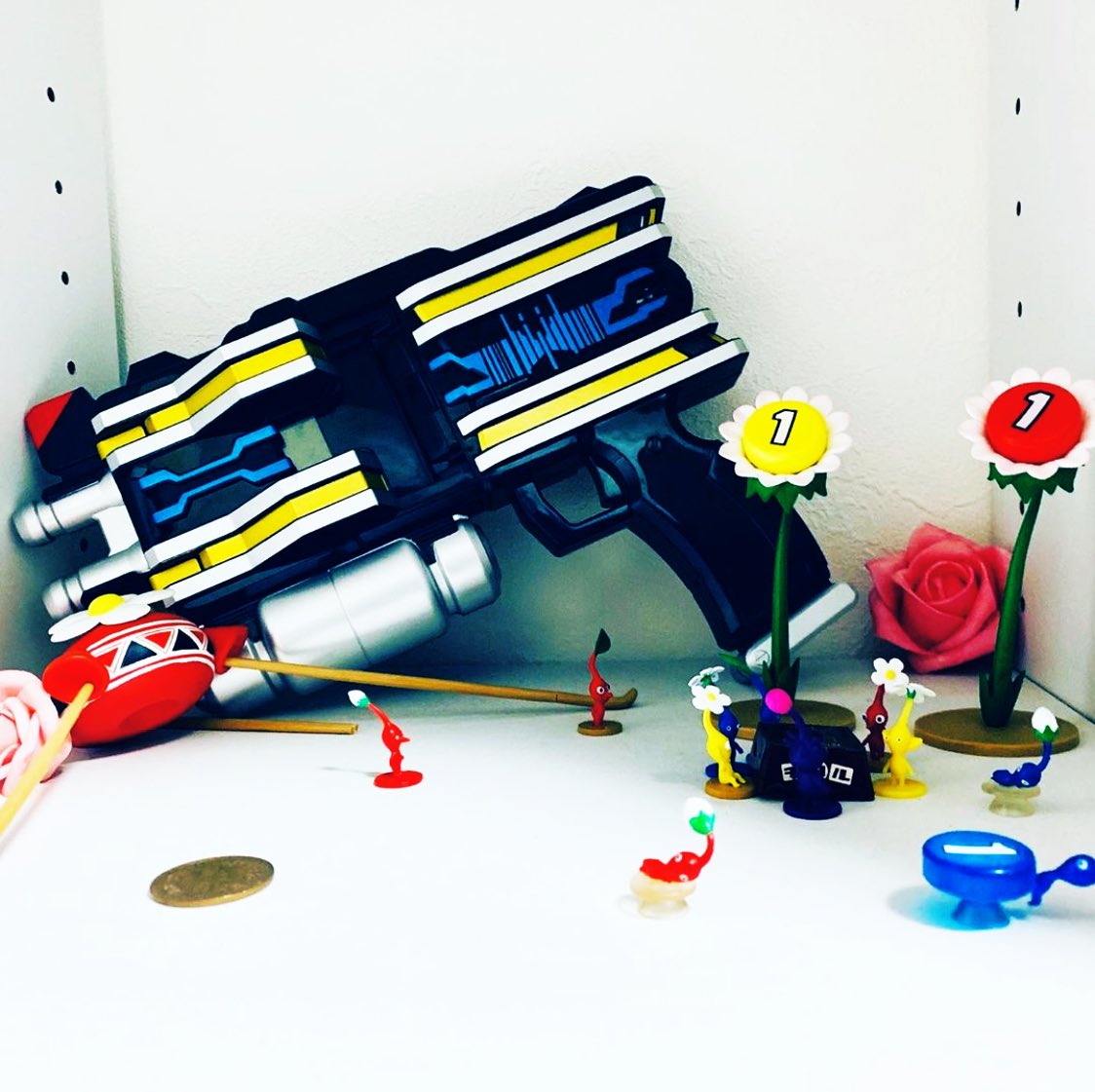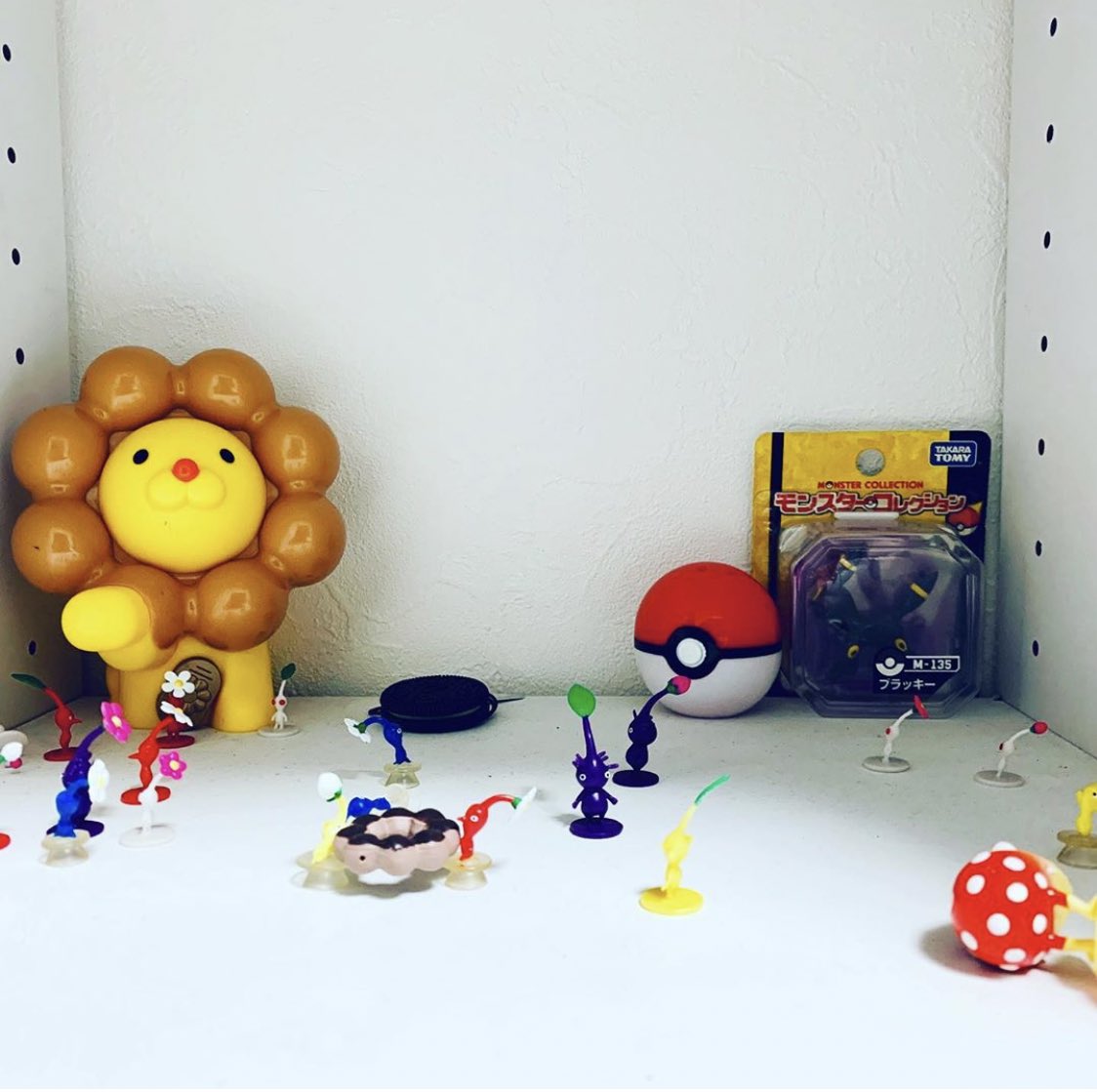 (the Onion has a broken leg. lol)
Note: Onions act as nests for Pikmin, see the collapsed creature beside the Diendriver (gun) in the first pic
The Diendriver's owner collect treasures, right?
And you collect treasure in Pikmin 2, right?
That's how it is (genius)
Good morning~
Note: Kaito Daiki (from Kamen Rider Decade) is a treasure hunter
---
#GetsubushiTV Thank you–!
#OyuMoyo changed their outfits~miin min min min min min min min

We're finally at EP1 of #LetsWeissSchwarz, and how will #WakaOyu's outfits change!? How exciting~

Also! Please share your #GetsubushiGhostStories––
Note: minmin is the sound of cicadas, Koyama Momoyo made Oyu say minminminmin with her for the opening skit…
Waka = Minami Wakana
Quoted Tweet (Getsubushi TV #5)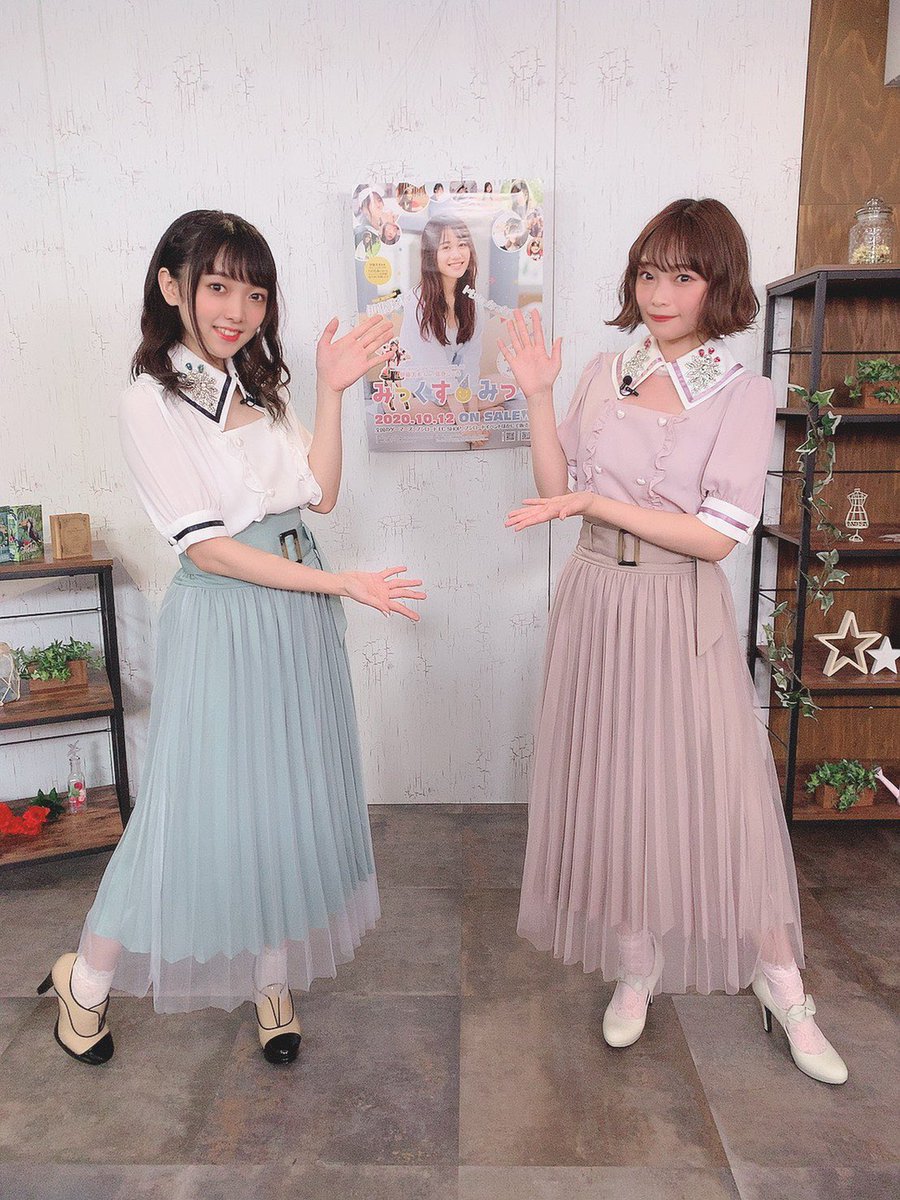 ---
The momentous #WakaOyus #LetsWeissSchwarzEP1!
And for Getsubushi TV, #OyuMoyo's 〇〇 is・・・!?
#GetsubushiTV #WS
Note: Waka = Minami Wakana, Moyo = Koyama Momoyo
Quoted Tweet (Gekkan Bushiroad TV #4-5)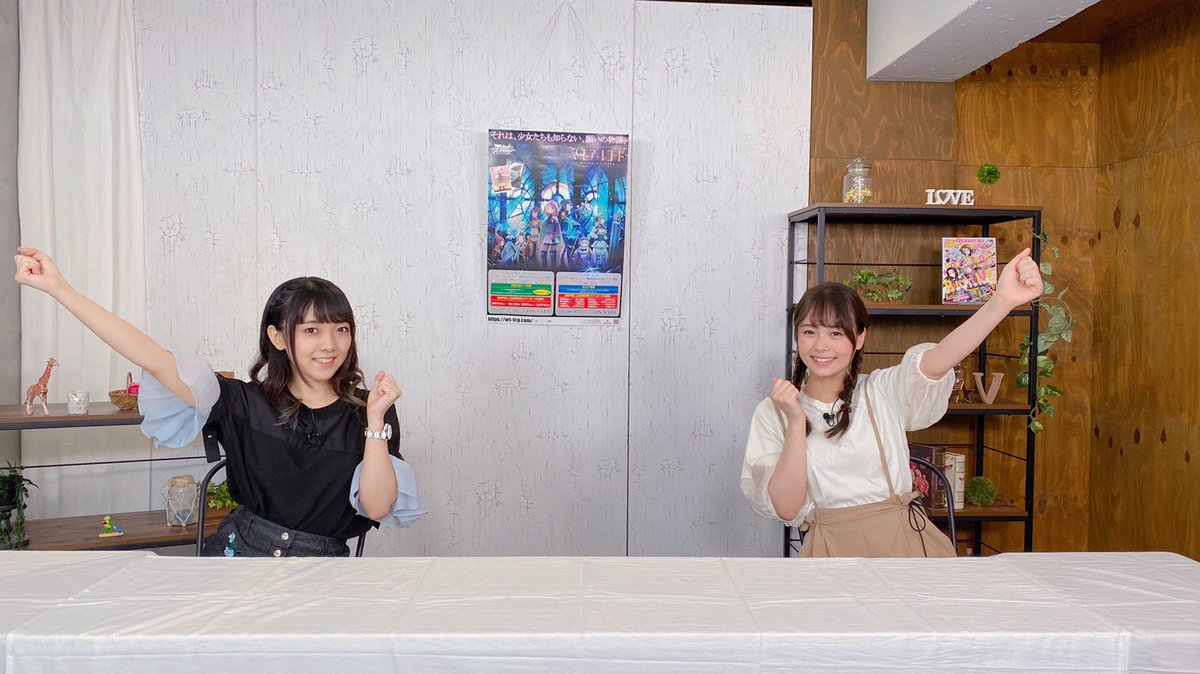 ---
>>Time Limited<<
Nishio's DJ play video is up–!
The! set list has D4DJ, Bandori, Starlight, and Milky [Holmes] songs and I put lots of detail into it so I'd like you to watch it whether you've seen it before or not–––!!! even as background music while working is⭕️
And be sure to check out #D4DJ_DJTIME starting this Friday too🎧 #D4DJ
Quoted Tweet (#D4DJ_DJTIME vol.2 Digest Video)
---
I missed my train stop so I thought, "well I've got time until my next appointment and there's a train on the same platform headed the other way so I'll ride it to the station~」then I passed the station, 3 stations, 4 stations
huh…huhっ…this wasn't supposed to……
Ah, but I've already made it back and I still have an hour to spare so don't worry~
---
And I just realized #MoniRaji #MORFONICAL are overrrrr
Both have archives so I'm gonna watch them––––
---
I went to the Bandori!&Starlight Exhibition–!
It reminded me that Morfonica is also part of Bandori. I'm even more fired up for 8th LIVE!!
Please listen to the specially recorded voice drama too~
The bonus mask for attendees is light, cool, and comfortable!
#Bandori #Starlight #ARGONAVIS
Note: she went with Shindo Amane (first pic)
second picture says "You can get a mask~"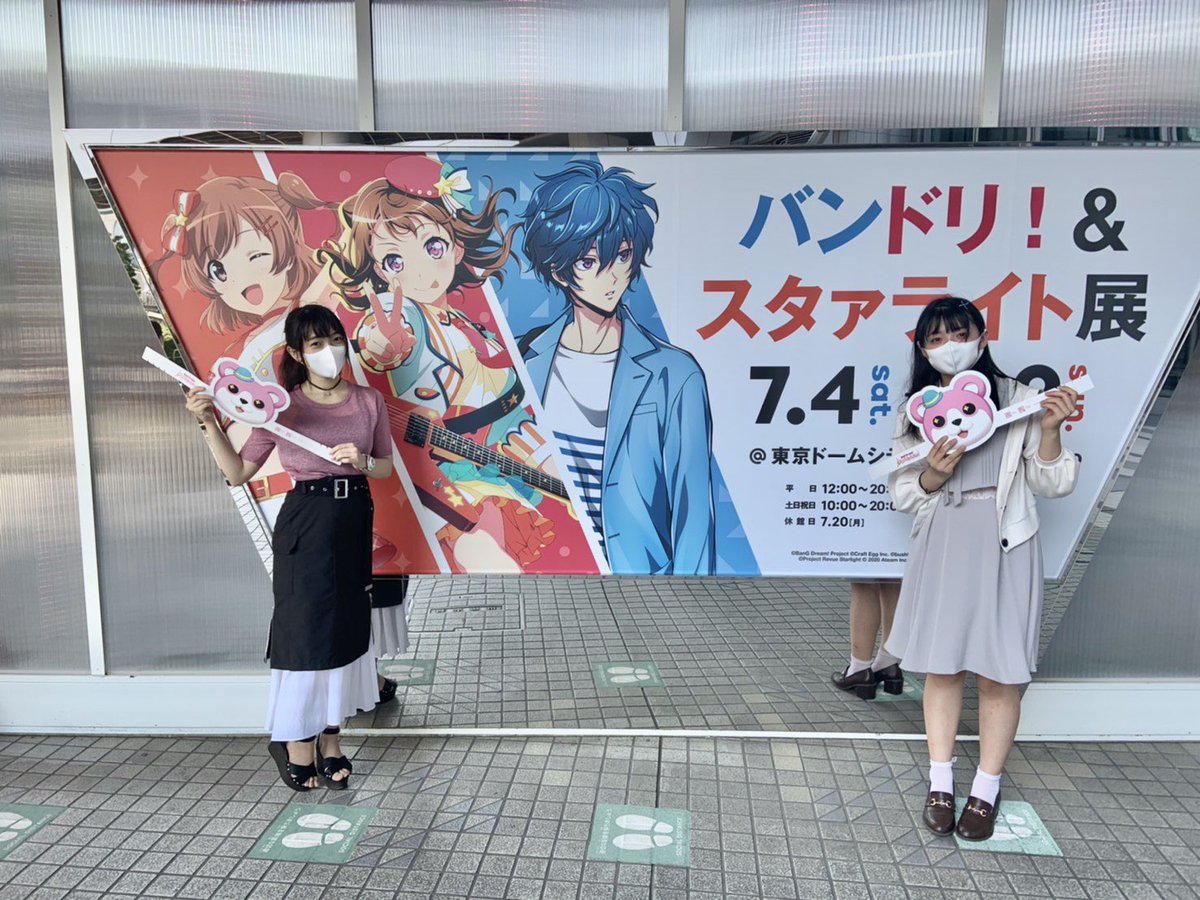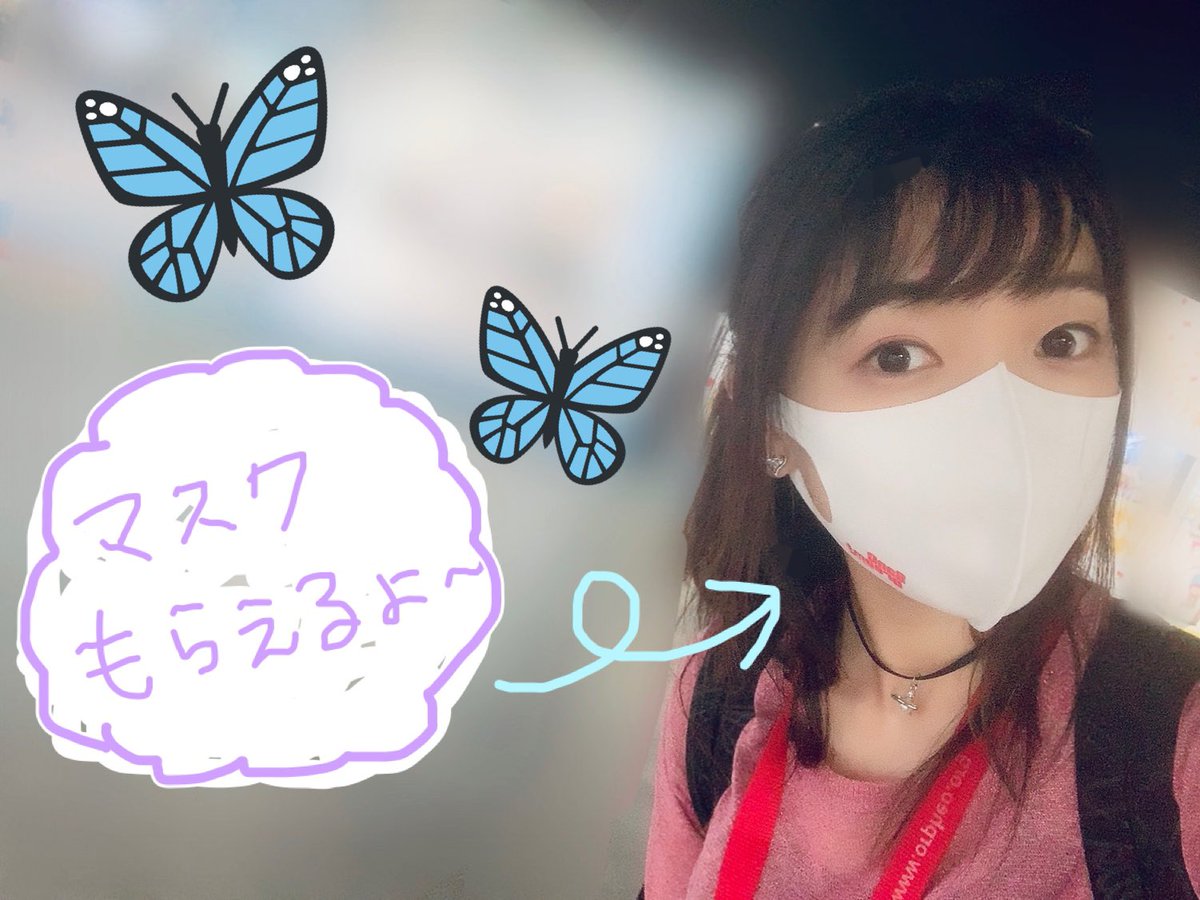 ---
Thank you for watching the TAMA-KYU 1st Anniversary Commemorative Live Stream–!

It wasn't just the products, but also the unique vibe and atmosphere that made it really pleasant and fun!
I'm gonna make hit products–!! #TAMAKYU
Note: it was announced on the stream that Oyu will be helping design gacha toys for TAMA-KYU
Quoted Tweet (TAMA-KYU 1st Anniversary Commemorative Live Stream)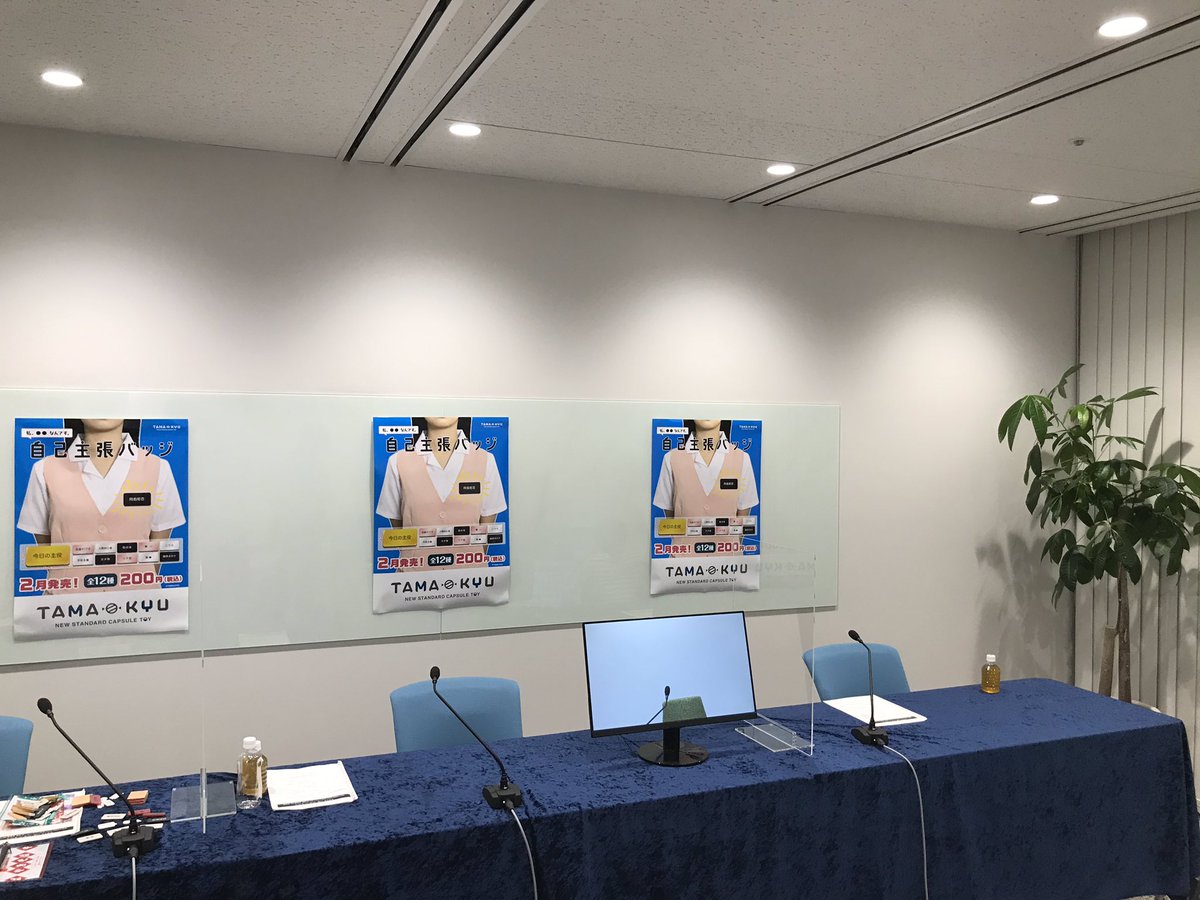 4 Aug 2020 – 10:17 PM (Morita)
Nishio-san, thank you for joining the Gekkan TAKA-KYU live stream☺️

I'm so glad you enjoyed yourself!!!

I look forward to working with you🙇‍♀️❣️

Please join us on Gekkan TAMA-KYU again in addition to TamaStu♫
Note: TAMA-KYU contents studio
Likewise, thank you & I look forward to working with you!!

For sure–!!✨
4 Aug 2020 – 10:42 PM (Taguchi Ryusuke, TAMA-KYU PR Ambassador)
Thank you

I look forward to
wonderful products from you☆
No, thank you!
I'll come up with some fun products!💪
---
Gekkan TAMA-KYU is currently live streaming~! watch watch watch watch watch watch
#TAMAKYU
youtu.be/Pc8syt17EHQ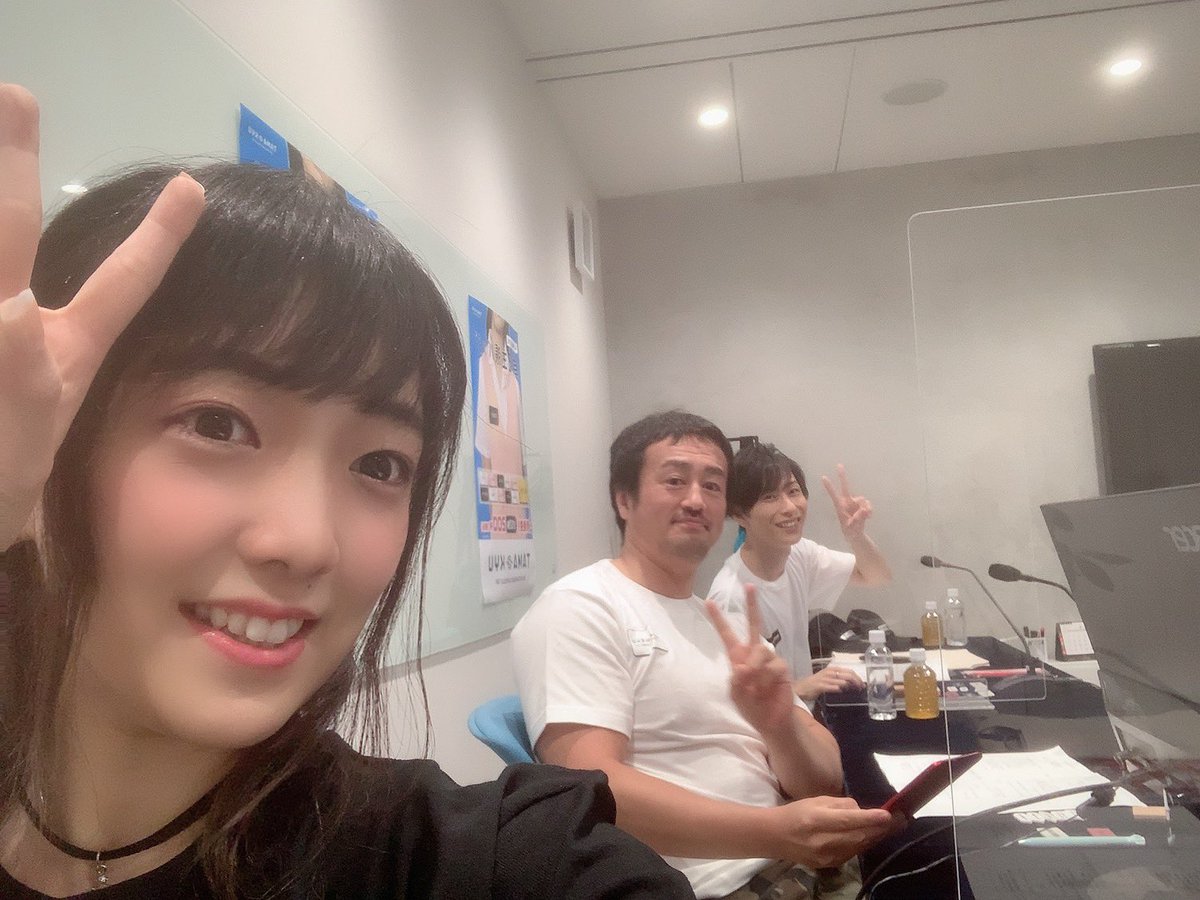 ---
Soon~!! excited #TAMAKYU
Quoted Tweet (Gekkan TAMA-KYU 1st Anniversary Commemorative Live Stream Special w/ Nishio Yuka, Morishima Shuuta, Taguchi Ryusuke)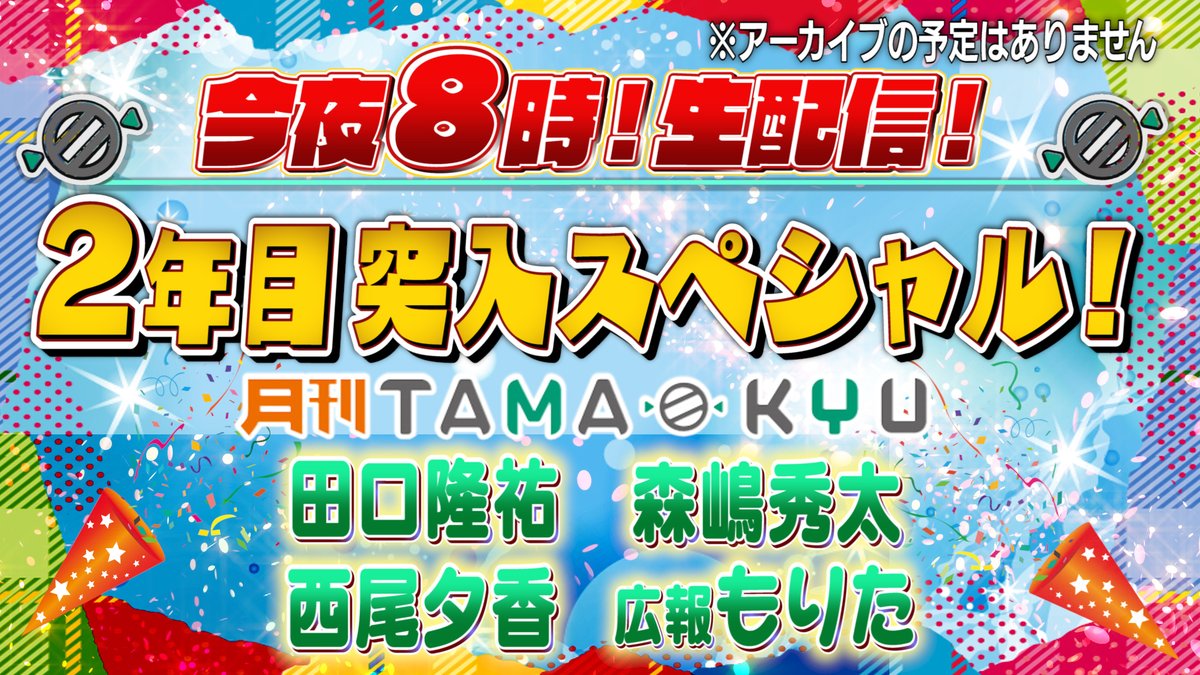 ---
Could it be: I got suntanned/sunburnt despite taking the train
---
Please look forward to stuff that'll make you go, "You're connecting this with that!?!?"~(˘ω˘)
#OMOTENASHIBEATS
Quoted Tweet (Nishio Yuka @ OMOTENASHI MATSURI – August 2020 -)
---
The #HiBiKiSeries serializations are starting in this month's #Getsubushi!

Nishio's series was・・・what again??? (playing dumb)
Note: four of the HiBiKi seiyuu got their own serializations. Oyu's is "Road to Gacha Gacha Creator"
Quoted Tweet (#HiBiKiSeries Announcement)
---
Happy Around! will be performing at
EJ ANIME MUSIC FESTIVAL 2020–!
We're gonna make HapiAra and D4DJ explode with fun!! Please watch!!!🍩🍙🎧💿
Note: donuts and onigiri are Rinku's favorite foods
Quoted Tweet (Happy Around! @ EJ ANIME MUSIC FESTIVAL 2020)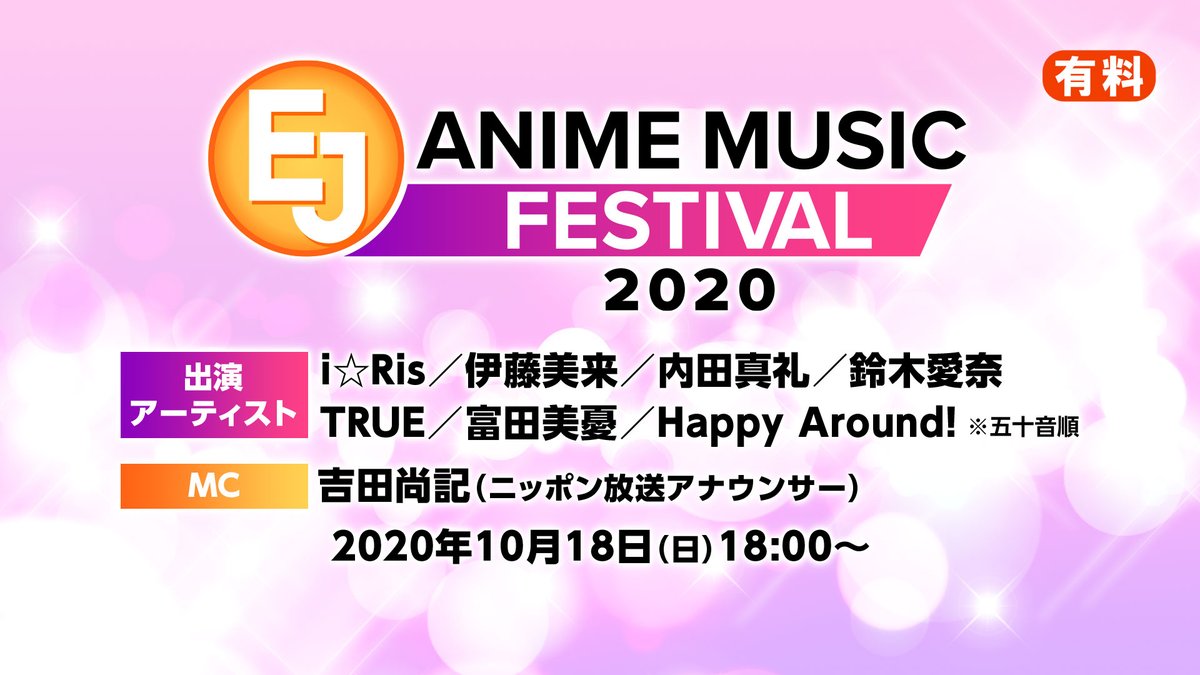 ---
OyuneStYle has been posted~
Please watch🐓🐓🐓
#HiBiKiStYle
Quoted Tweet (HiBiKi StYle #579 – Chicken Race Contest w/ Nishio Yuka, Shindo Amane)
---